MMG Limited (MMG) has recently agreed on the sale of its 90% equity in Lane Xang Minerals (LXML), which owns the Sepon mine in Laos, to Chifeng Jilong Gold Mining Co Ltd (Chifeng), for an astounding US$275 million.
Sepon's current copper operation has a projected mine life to around 2020. However, the mine life has the potential to be extended as a primary gold operation, so MMG initiated a strategic process in relation to its interest in Sepon in October 2017, with a view to transferring the mine to a gold-focused company better suited to realizing Sepon's future as a primary gold operation.
"The divestment by MMG of LXML reflects their intention to focus more on their core non-Laos copper mining assets and reflects the fact that the majority of the value will be realized by 2020 when the copper portion of the mine phases out. We see this as a speculative play by Chifeng who has eyed possible extension of the gold mining portion of the concession area which has since declined in production 2-3 years ago, consistent with declining commodity prices during that period," says M&A specialist Connor Kindersen, Managing Partner of Kindersen Raleigh & Associates.
MMG CEO Jerry Jiao said that the agreement is a positive outcome for all stakeholders, including LXML Sepon employees, the government of Laos, and the local communities and businesses in the region.
"MMG is pleased to be able to transfer our interest in LXML to Chifeng – they are an experienced gold miner who is well suited and focused on extending the life of Sepon through the transition from copper production to primary gold operations. We look forward to supporting them through a smooth ownership transition and watching with interest as they develop the next phase in the life of this great mine," Mr Jiao said.
"We are very proud of Sepon's achievements and we are confident that Chifeng will continue the strong history of economic and social development that this operation has provided in Laos."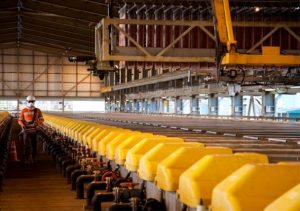 LXML Sepon produced its first oxide gold in 2003, commencing large scale copper operations in 2005 and to date has produced over 900,000 tonnes of copper and over 1.2 million ounces of gold.
The operation has contributed over US$1.4 billion in direct revenue to the Lao Government and hundreds of millions of dollars in local procurement, community development, education and training since production commenced.
LXML will continue to maintain its closure and rehabilitation fund and community projects close to the mine.
MMG engaged Standard Chartered Bank as its financial advisor and Linklaters as its legal counsel on the transaction.
Completion of the transaction is expected in the second half of 2018.
Source: KPL