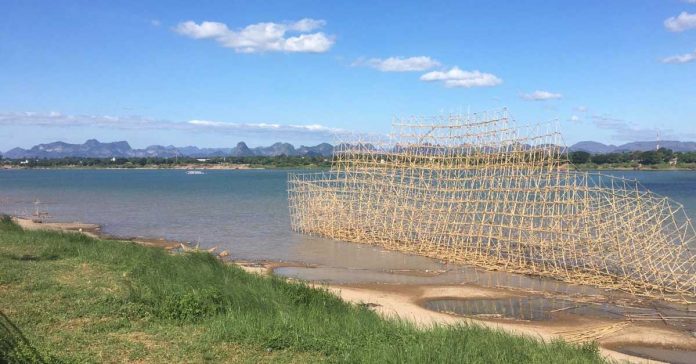 The mighty Mekong River, normally a vast expanse of brown, has taken on a bluish hue, making it appear like seawater in some areas.
Residents of both Thakhek in Laos, and Nakhon Phanom in Thailand, have noted the blue color of the Mekong River in recent weeks. Social media has been awash with beautiful scenic photographs of the phenomenon, making the Mekong appear more like the ocean.
The rare change in water color, although attractive, is, in fact, a troubling warning about the state of the river.
The level of the Mekong River in some areas has dropped to only about 1 meter in depth, which is the lowest level recorded in 50 years.
Many areas of the Mekong now feature sandbanks, and as the water level has dropped, the water color has changed from brown to blue.
Some Mekong conservationists have warned that the change in color could be an indication that the river is running dry.
According to a report in the Bangkok Post, the shallow depth can cause the river's flow to slow down, thereby causing sedimentation which reacts with riverbed sandstone, producing the blue water color.
Laos is suffering a severe drought this year amid low rainfall and high temperatures, which is affecting not only the country's food security but also farmers' livelihoods.
Rainfall this year was at a historic low, especially in the north of the country, and the country's capital, Vientiane, has already begun facing water shortages.
Photo: Jason Rolan