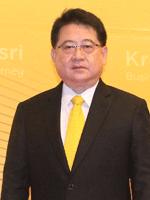 Krungsri (Bank of Ayudhya PCL) is providing full support for Thai SMEs to expand their businesses in Laos through the Krungsri Business Journey: Opportunities in the Lao PDR.
The event focuses on business matching, particularly for the consumer goods industry, which brought 13 Thai companies to meet with 16 Lao companies in Vientiane yesterday.
"Krungsri was granted a foreign branch licence to operate in the Lao PDR and our operation has been ongoing for 22 years," Krungsri Head of Commercial Banking Group, Mr Pornsanong Tuchinda, said at the ceremony.
"The Krungsri Business Journey: Opportunities in the Lao PDR event aims to extend our comprehensive experience and understanding of the business environment as well as customers' demands on both sides to Thai and Lao entrepreneurs for them to thrive as trade and investment opportunities broaden," he said.
The increasing export and import values of the Lao PDR reflect the country's robust economic growth.
Products from Thailand account for a major portion of the Lao PDR's imports, mainly consumer goods and household products, which answer to the higher demands of Lao consumers and their confidence in the quality and standard of Thai products.
"Krungsri serves as an advisor and facilitator for entrepreneurs attending the event, while business matching provides buyers and sellers with an advantage as they can conduct preliminary due diligence and set forth suitable negotiation directions while enhancing business partnership opportunities," Mr Pornsanong said.
Krungsri is organising a networking session for Thai and Lao entrepreneurs to visit major traditional and modern trade markets and get an investment insight from the Thai Ambassador to Laos, Noppadon Theppitak, Consultant to the Thai Embassy in Laos, Mrs Phimon Pongkongkeo, and the Ministry of Planning and Investment's Investment Promotion Department Director General, Mr Manothong Vongxay.
With comprehensive experience in financial service provision in the Lao PDR and an extensive global network, Krungsri is prompt to provide international business advisory services on cross-border trade and investment in Thailand and overseas.
Krungsri also offers various trade and finance products and services including deposit accounts, transactional banking and foreign exchange, and short term and long term international trade loans mainly in three currencies, Thai baht, US dollar and Lao kip.
Interested entrepreneurs can contract Krungsri branches in Vientiane and Savannakhet province for more details.
Thailand is now the second largest foreign investor in Laos, with most investment in hydropower development, transportation, and services such as hotels and restaurants, and some industrial processing, Mr Noppadon said.
The value of trade and investment between the two countries is growing, and the number of Thai companies investing in the Lao PDR is increasing.
Through this activity, more Thai businesses will be encouraged to invest in the Lao PDR, Mr Pornsanong said.
Source: Vientiane Times