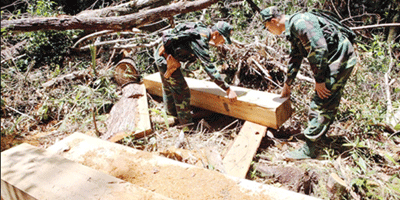 Authorities in Laos and Vietnam are trying to track down loggers who cut down 70 long leng trees in forests along the countries' shared border, in order to bring the culprits to justice.
The scientific name for this tree species is Fokienia hodginsii , known as po mu in Vietnamese.
An official from the Xekong provincial Agriculture and Forestry Department, Mr Somvang Khammavong, told Vientiane Timeson Friday the relevant offices in Laos and Vietnam were combing forests in both countries after authorities discovered that the trees had been felled.
"But the authorities do not know where the wood was transported to after the loggers cut the trees down," Mr Somvang said.
However, it would be impossible for the loggers to move the wood through forests on the Laos-Vietnam border into Laos because the authorities are keeping a close watch on wood shipments after Prime Minister Thongloun Sisoulith issued an Order on May 13 banning the expo rt of unfinished wood products.
Officials, police and soldiers from both countries are monitoring forests along the border for logging activities.
According to a preliminary report from authorities in Laos and Vietnam, loggers felled 43 trees in Nam Giang district in Vietnam's Quang Nam province and 27 trees in Dakcheuang district, Xekong province.
According to the Vietnam News, during investigations police discovered a group of suspects – local officials and forest management staff – who allegedly conspired with the loggers to fell the trees.
The group arranged for the loggers to cut down trees in forests that were strictly patrolled by security forces. The wood would then be transported into Laos where it would be 'legitimised' through customs procedures and then returned to Vietnam.
Sixty long leng trees, with a volume of about 10 cubic metres each, were shipped into Vietnam and sold for VNÐ35-40 million (US$1,800) for one cubic metre.
Police estimate that the 60 long leng trees were worth more than VNÐ18-24 billion (US$800,000 to US$1.1million).
Earlier this month, the Vietnam News reported that authorities in Vietnam had taken action against an illegal logging gang in Lam Dong province.
Vietnamese authorities said their latest survey revealed that at least 30 centuries-old trees had been felled.
Police from the public security ministry's Southern Department of Environment Crime Prevention conducted a surprise raid last week and arrested 20 members of this gang.
Source: Vientiane Times