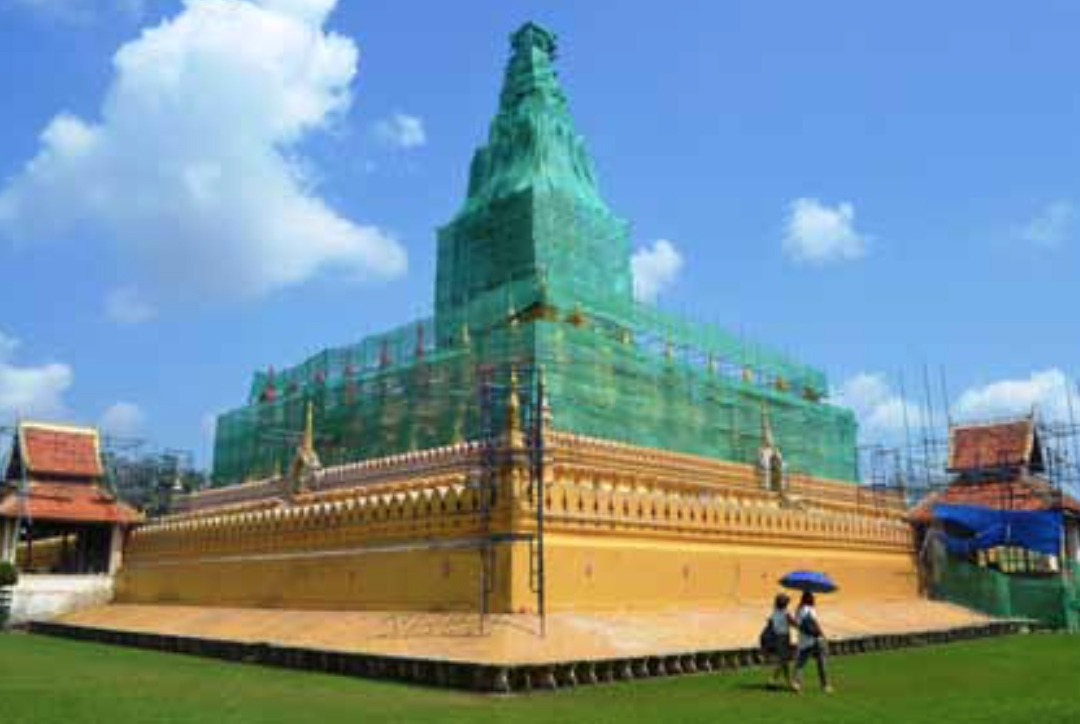 Vientiane authorities yesterday confirmed that repairs to the That Luangstupa will be complete ahead of the annual That Luang Festival on November 14.
Deputy Director of the Vientiane Information, Culture and Tourism Department, Mr. Khochone Keomanivong, who is a member of the That Luang Restoration Project Committee, told Vientiane Times yesterday that workers were putting the finishing touches to the exterior of the revered stupa and completing the paintwork.
The committee is also preparing to place more than 10 kilogrammes of gold leaf on the top of the stupa and expects that all the work will be finished before the festival and that the scaffolding and protective covering will all be removed.
Only improvements to the landscaping and electrical system will still remain once the festival is over.
The restoration involves work to improve the main structure, the paintwork, the surrounding garden, drainage channels, electrical system and other features.
The restoration committee is doing its best to ensure that the iconic stupa will really shine on its 450th anniversary, which will be celebrated from November 12-14 and coincides with the That Luang Festival.
Vientiane authorities reported at a recent ceremony to melt gold to place on the stupa that the committee has received 11 kilograms of 24 karat gold and over 652 million kip in government and private donations, with fund raising efforts still continuing. The restoration is expected to cost 8-10 billion kip.
The That Luangstupa was originally built during the ancient Khmer civilisation, when Vientiane was inhabited by people known as the Cham. Researchers believe the structure was originally a four-sided stone obelisk.
The site was built as a place for people to worship and pray to idols. The structure was renovated on the orders of King Xaysetthathirath in the 16th century when the original site was covered with a bigger stupa. From then on the monument took the name That Luang, or Grand Stupa.
The Cham period saw the second wave of Buddhism in Laos. Under the patronage of Emperor Ashokka of India, the venerable monks Sona and Outala and five scholars brought what believers understand to be pieces of the pelvic bone of Lord Buddha to Vientiane in the Buddhist calendar year 218 (BCE), when they were stored at Phou Luang hill.
The ruler of Vientiane at that time, Lord Chanthabouly Phasitthisack, had a stupa built over the obelisk in 236 BCE. The sacred site was then named Pha Chedi Lokachulamany.
According to the legend of the That Phanom Stupa, also known as Tamnan Oulangkhathat, Emperor Ashokka authorised the relics to be placed inside the That Luang stupa in Vientiane.
The same legend claims that the remains of Lord Buddha were distributed to all corners of the globe where there were Buddhist followers and his ashes were placed inside 84,000 stupas. This number corresponds to the 84,000 points that believers are required to study in the tripitaka (Buddhist scriptures).
Source: Vientiane Times