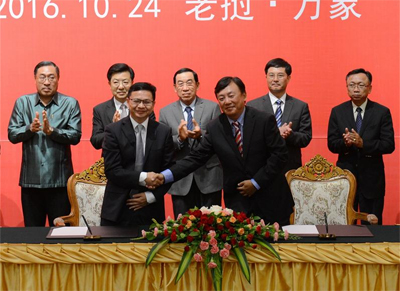 China-Laos railway will be built to become a demonstration project in "Go Global" strategy, said Chinese companies participating in a symposium held in Vientiane on Monday.

At the symposium, Zhao Xiang, Director General of the Laos-China Railway Company provided relevant information on Lao taxation, project investment, visa processing, personnel issues, among others.
Meanwhile, Chairman of the Laos-China Railway Company Huang Difu put forward specific requirements for units involved in the construction of the multibillion dollar railway project.
Chen Shiping, Director General of China Railway International Group vowed to send skilled personnel, use advanced construction technology and management models in order to complete the project with high quality, making China-Laos railway a demonstration project in China's "Go Global" strategy in railway sector and the "Belt and Road" initiative.
Meanwhile, signing ceremony of tender contracts for the second phase of the China-Laos railway project was held in Vientiane. The signing included 11 contracts on civil engineering, construction supervision and third-party testing.
The China-Laos railway has a total length of over 400 km, linking Mohan-Boten border gate in northern Laos and Vientiane Capital. Operating speed on the route is designed at 160 km per hour. Kicking off in late 2015, construction of the project is scheduled for five years with investment of about 37.4 billion Chinese yuan.
Source: KPL