Group Visits Route to Freedom Taken by Leaders in 1960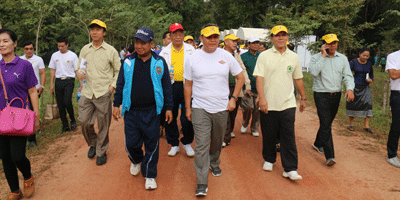 Over 300 people gathered near Tadxone Waterfall in Vientiane's Naxaithong district on Friday to trace the path taken by the 16 Lao Patriotic Front leaders who made a daring escape from Phonkheng Jail 56 years ago.
The breakout by the revolutionary leaders including Prince Souphanouvong, Nouhak Phoumsavanh and Phoumy Vongvichit was an extraordinary feat and is considered a significant event in Lao history which remains talked about to this day.
Among those joining the 2-km walk to trace the route taken by the Lao Patriotic Front leaders were Party Politburo Member and President of the Lao Front for National Construction, Dr Xaysomphone Phomvihane, and other leaders.
The crowd walked to a cave where Prince Souphanouvong and the other escapees hid before heading to the revolutionary stronghold in northern Laos.
The event was organised by the Lao Front for National Construction and the Vientiane Elderly People's Association.
President of the Vientiane Elderly People's Association, Mr Somphong Mongkhonvilay, told the crowd that the goal of the walk was to raise awareness among the younger generation and encourage people never to forget the valiant deeds of the revolutionary leaders who sacrificed so much for the nation.
On July 28, 1959, the American-backed Vientiane government arrested the 16 Lao Patriotic Front leaders and put them in Phonkheng Jail in a bid to suppress the revolutionary movement, Mr Somphong said.
During their time in jail, the group told the soldiers guarding the prison about the political views, revolutionary morale, spirit of patriotism and sacrifices of the revolutionary forces and eventually persuaded their guards to side with them.
Although our revolutionary leaders were in jail, they jointly signed a letter which they sent to the Phouy Sananikone Prime Minister-led government, requesting (the Vientiane government) to release them. But the Vientiane government did not care about the letter, Mr Somphong said.
Over a period of almost 300 days, the situation became more tense and the revolutionary leaders talked their guards into a position of sympathy so that they prepared an escape route.
Finally the leaders escaped in 1960 and headed to Naxaithong district, before walking to the north and the safety of the revolutionary stronghold.
To commemorate the courage of the 16 revolutionary leaders, the Lao Front for National Construction and Vientiane Elderly People's Association published a book about the incident.
The book keeps alive the story of the leaders' break for freedom and ensures that the younger generations can learn about the incredible story of their escape.
The book was written by Mr Buasy Chaleunsouk, one of the 16 revolutionary leaders.
A second edition of the book has been printed and earnings from sales will be used to build a memorial to the escapees.
Source: Vientiane Times