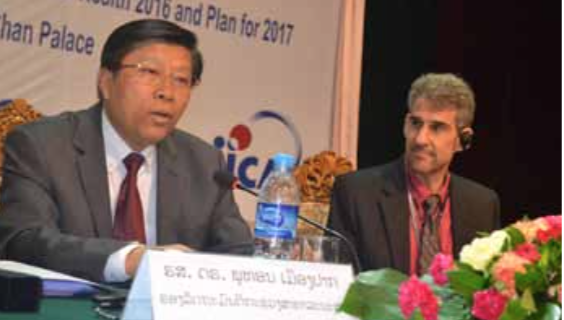 Everyday, an average of 40 children are born in the country; but five of them will die because mothers and their babies do not have proper access to health services.
A recent workshop was held on the issue in order to discuss ways to lower the mortality rates of both mothers and their babies. The workshop was attended by the regional coordinator for reproductive health at the World Health Organization (WHO), Dr Howard Sobel.
According to the Lao Social Indicator Survey 2016, the mortality rate of infants is 86 per 1,000 live births. The mortality rate of mothers was 200 for 100,000 births.
Because of the high mortality rate for expectant mothers, it is essential to encourage all pregnant women to receive health checkups at least four times before giving birth. This includes encouraging them to give birth at a hospital to insure the safety of both the mother and the infant.
There were various factors causing the deaths. Mothers-to-be having irregular health checkups were one of many reasons why mothers and their children were dying each year, according to a report by the Ministry of Health Speaking at the opening ceremony, Deputy Minister of Health, Associate Prof. Dr Phouthone Meuangpak, said infant mortality rates in Laos have continued to decline. But, the real mortality rate of mothers and children is higher than the figure recorded in previous years because many people living in remote areas of the country can't access health services.
One reason for this is that local health officials are not sufficiently informed about reproductive health issues that are relevant to young people.
Dr Phouthone said for several years, the Lao government has implemented the Strategy and Action Plan for Integrated Service on Reproductive Maternal, Newborn and Child Health, which focuses on entrusting health officials and village volunteers with directly collecting data on the mortality rates of infants and mothers in their villages.
As a result, the real mortality rates of infants and mothers have been unveiled, which are higher than the figures recorded by authorities in previous years.
All health officials and village volunteers in each province must increase the quality of healthcare services to mothers and infants, including improving the services offered by doctors and nurses at hospitals and dispensaries at both the central and district levels.
Dr Phouthone said there are efforts already underway to improve the health service systems for communities in remote areas of the country in addition to the building and training of quality health officials, especially village physicians, midwives, specialists and health facilities.
Source: Vientiane Times