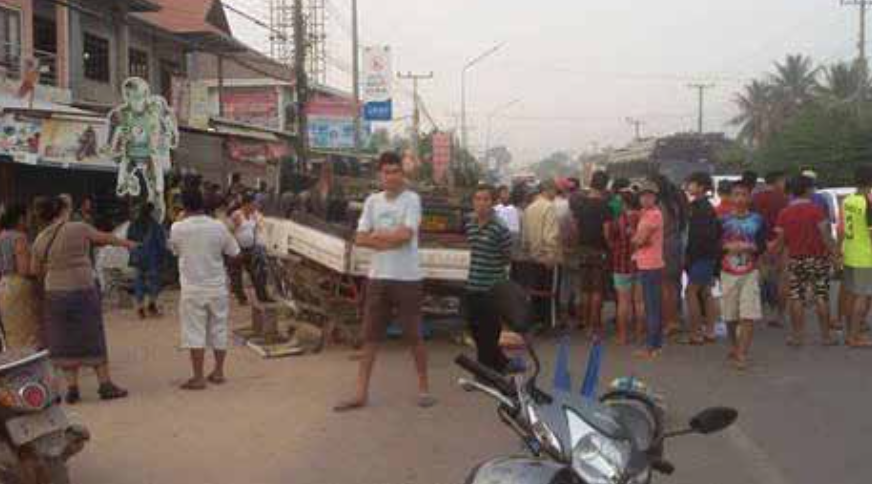 Two people were killed and 19 people sustained injuries after a Hyundai pickup truck overturned in Salakham village, Hadxaifong district, Vientiane on Sunday.
A senior official of the Vientiane Traffic Department, Captain Vixay Vilaisay, told Vientiane Times yesterday that the accident occurred at 4:30pm on December 11.
The driver of the pickup, Mr Soulivan, 35, of Nonghai village and his 20 passengers were travelling at high-speed from Nonghai traffic lights to the Lao-Thai Friendship Bridge when the vehicle lost control and overturned in Salakham village.
A passenger was killed instantly at the scene and another passenger passed away later in hospital. The victims were identified as Mr Soukan, 65, of Nonghai village and Mr Khamhan, 40, of Champao village, Samakhixay district, Attapeu province.
Meanwhile, one passenger also sustained critical injuries and 17 another passengers sustained moderate injuries. Police expected the accident was caused by speeding.
Another incident also occurred in Salakham village on Saturday night when a SUV vehicle collided with the rear end of a rickshaw. One person was killed instantly and three people sustained moderate injures. The Vientiane Traffic Police Department is continuing to investigate the accidents.
The Vientiane Traffic Police Department of the Ministry of Public Security recorded 46 road accidents in the capital from December 1-11, in which 10 people died, 89 people were injured and 86 vehicles sustained damage.
Vientiane usually has the most accidents compared with other provinces around the country.
Meanwhile, alcohol is recognised as being a major cause of road accidents and this year incidents of drunk driving are higher than ever.
According to the department, motorbikes were involved in 95 percent of all vehicular accidents, with male drivers making up 90 percent of the fatalities.
The number of road accidents overall continues to increase. About 90 percent of accidents involve drunken driving, speeding and other violations of the traffic rules. Many accidents occur on weekends and special occasions when people get together to drink alcohol.
Xaythany and Hadxaifong districts recorded the highest number of accidents in the capital.
Source: Vientiane Times