The Dao Heuang Group, one of the biggest producers of coffee in Laos, is expanding its overseas sales network to China, where coffee consumption has been increasing by 15-20% per year.
Dao Heuang and Kunming Kanglin Food Import and Export Trading Company reached an agreement on buying-selling and dealership authorization of Dao coffee products in China.
The contract was signed by Vice President of the Dao Heuang Group, Boonheuang Carol Litdang, and a representative of the Kunming Kanglin Food Import and Export Trading Company, Khamseng Xayapheng, on April 28 in Champasak.
The agreement will enter into effect for three years until 2021.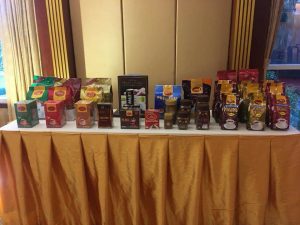 General Manager of Kunming Kanglin Food Import and Export Trading Company, Li Lin He, said that the export of Dao coffee to China made sense because the latter is a huge country with a huge population and rapid and strong economic growth. These conditions provided the commercial rationale for the expansion of Dao products to consumers in China.
He added that his company recognized that Dao coffee was sourced from the Bolaven Plateau in the south of Laos. The plateau has a special climate and geography that provides a high quality yield and the coffee crop is processed by Dao's own coffee plant. It is a big processing industry that uses modern technology of high standards.
Recently, there are some in China, where the tradition for many years has been to drink tea, have changed their drinking culture and are now consuming more coffee.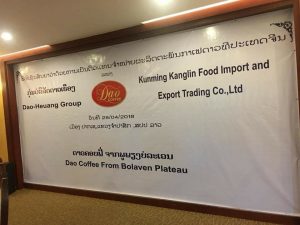 Source: Vientiane Times