After passing over Hainan, Tropical Storm Son-tinh has its sights set on China and northern parts of Vietnam and Laos in the coming days.
As this storm tracks westward, the greatest risk for flooding and local damaging winds will increase from northern Vietnam and Laos late Wednesday into Thursday.
Mudslides may further endanger lives and property in the mountains.
Flooding rainfall will be the most widespread threat as rainfall of 75-150 mm (3-6 inches) will be widespread from Hainan into northern Vietnam and Laos. This includes the Vietnam capital of Hanoi and the Lao capital of Vientiane. Hardest-hit areas can expect rainfall amounts up to 250 mm (10 inches).
According to the Lao Department of Meteorology and Hydrology, the most affected areas in Laos include Khammouane, Bolikhamxay, Xaysomboun, Vientiane, Xiengkhouang, Sayaboury and Luang Prabang.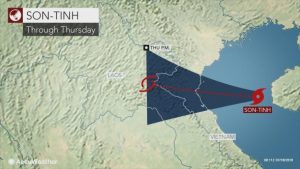 The extent of the risk for damaging winds will hinge on how strong the storm becomes. Interaction with Hainan will likely hinder overall strengthening and limit damaging winds to areas near and along the path of the storm.
Areas at risk for damaging winds include areas in Vietnam between Vinh and Thanh Hoa late Wednesday into Thursday.
Son-tinh will weaken as it moves farther inland, ending the threat for any damaging winds before the storm reaches northern Laos.
Rough seas will also be stirred and create dangers for boaters as the storm churns across the South China Sea and Gulf of Tonkin.
The storm was named Henry in the Philippines where it produced heavy rainfall across parts of Luzon earlier this week.
All residents at risk for impacts from this budding storm are urged to closely monitor its progress. Be sure to follow the advice of local government and heed any evacuation orders in the coming days. Keep gas tanks filled and mobile phones fully charged.