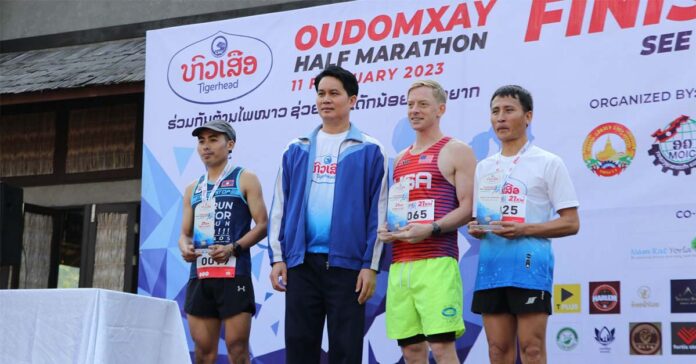 The Lao Brewery Company extended its support to the Oudomxay Half Marathon, which attracted hundreds of runners from across the country, a development that would generate positive economic impacts for the province.

The charity race was organized on Saturday by the Oudomxay District and sponsored by the Lao Brewery Company through its product, Tigerhead water.
The event comprised three distances—the 5 km marathon, the 10 km marathon, and the 21 km marathon—starting from the provincial capital to Namkat Yorla Pa Resort, one of the most popular tourist hotspots in the province.
Runners who reached the finish line within the designated time received medals for their efforts.
The Oudomxay Half Marathon was designed not only to raise funds for disadvantaged people affected by the cold weather and the development of children from poor families in the province but also to boost local businesses.
The marathon was also aimed at promoting exercise for health, strengthening friendships among the runners, and promoting tourism in Laos.
Oudomxay serves as an economic hub in northern Laos, through which the Laos-China Railway passes. This made it easier for people from across the country to join the charity event.
The Lao Brewery Company has become part of efforts to revitalize the Lao economy, notably that of Oudomxay province, by supporting the charity race.
The arrival of runners and visitors for the Oudomxay Half Marathon enabled the hospitality sector, including hotels and restaurants in the province, to boost their revenues after two years of hardship triggered by the Covid-19 pandemic.
Due to improved accessibility as a result of the Laos-China Railway, Oudomxay now draws thousands of people who come to explore the province and boost the local economy.
The Lao Brewery Company, through its Tigerhead drinking water, provides continuing support to important events taking place in provinces and the country as a whole.
Over the past few years, the Lao Brewery Company has sponsored a number of sports events, marathons, festivals, and other activities. These included the Vientiane International Marathon 2022, the Luang Prabang Half Marathon, and the 11th National Games. The company also provides scholarships to excellent students across the country.
As a leading beverage manufacturer and distributor in the country, Lao Brewery Company Ltd. is the top taxpayer in Laos, making annual tax payments of more than LAK 2 trillion each year.