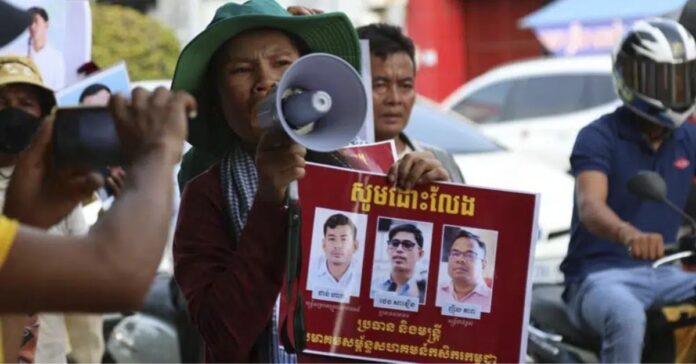 PHNOM PENH, Cambodia (AP) — Three Cambodian land rights activists who were arrested on charges of plotting against the government planned to provoke a peasant revolution by teaching farmers about class divisions between rich and poor, an official said Tuesday.
Theng Savoeun, president of the Coalition of Cambodian Farmer Community, and his colleagues Nhel Pheap and Than Hach were charged Monday by a court in the country's northeast with plotting against the state and incitement to commit a felony, said Am Sam Ath of the local rights group Licadho.
He said plotting against the government carries a possible prison term of five to 10 years, while incitement to commit a felony is punishable by six months to two years. He described the charges as sending "a message of intimidation" to civil society groups.
The three suspects were not available for comment and their lawyers were not immediately reachable.
However, a statement on Theng Savoeun's Facebook page said, "In this life, we have tasted all sorts of flavors, but we remain firmly strong because our daily work is not what they have accused of us, rather we work at basic humanitarian tasks, helping the victims, helping farmers, helping the community, to make them understand their rights and obligations, and to help them find a solution."
The arrests in Ratanakiri province came as Cambodia prepares for a general election in July that is certain to return to power the governing Cambodian Peoples Party of Prime Minister Hun Sen, who has led the country for 38 years with little tolerance for dissent. The opposition Candlelight Party, the sole group posing a credible challenge to the governing party, was not allowed by the National Election Committee to contest the polls and expects a ruling this week on its appeal of that decision.
The three activists were arrested on May 17 after hosting a workshop in Ratanakiri province about land rights and other issues affecting farmers. The police detained 17 of the workshop's 39 participants but released all but the three, who were charged and placed in pre-trial detention on Monday.
Interior Ministry spokesperson Gen. Khieu Sopheak said the three were arrested because their activities violated the law and were outside the main goals of their organization, which he said were to teach farmers more productive agricultural techniques.
He said the workshop instead discussed political issues such as the division between rich and poor and how to incite farmers to hate the rich.
"Their lecture was to teach about peasant revolution, about the class divide in society." Khieu Sopheak said. He said such language mirrored the ideology taught by the communist Khmer Rouge to poor farmers, especially in Ratanakiri province, in the early days of their revolutionary struggle before taking power in April 1975.
The brutal Khmer Rouge regime, which was ousted in 1979, is blamed for the deaths of an estimated 1.7 million Cambodians from starvation, illness and killing.
Hun Sen joined the Khmer Rouge in 1970 when it was fighting against a pro-American government but defected from the group in 1977 and allied himself with a resistance movement backed by neighboring Vietnam.
Land grabs by wealthy and influential people have been a major problem for many years in Cambodia. Land ownership was abolished during the rule of the Khmer Rouge and land titles were lost, making ownership a free-for-all when the communist group lost power. Under Hun Sen's government, much land that had been resettled was declared state land and sold or leased to wealthy investors, many of whom critics said were cronies of the governing party. Security forces have been employed to help evict tenants from such areas.
Khieu Sopheak said the three land activists admitted their crimes during police interrogation and that the authorities had found evidence of their activities on a computer and in documents from the group's training workshop.
Farmers from other provinces who support the three activists defied official harassment to travel to Phnom Penh to stage protests in front of the Interior Ministry demanding their release.
Rights worker Am Sam Ath expressed his concern that the three face such serious charges for working for the benefit of farmers and their communities. He said it might make it harder to help farmers in the future.
___
By SOPHENG CHEANG and GRANT PECK Associated Press
Peck reported from Bangkok.