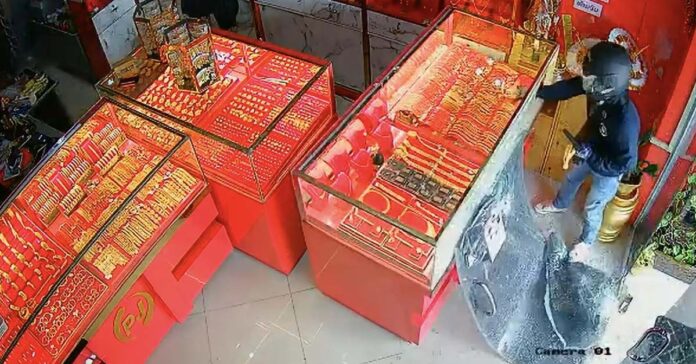 A gunman who is believed to have robbed several jewelry stores in Vientiane Capital broke into yet another shop stealing numerous valuable gold items on Thursday afternoon.
The incident was reported at Larnoy Phorjai jewelry store in Chanthabouly District at around 13:49 pm.
According to a CCTV video from the owner, Ms. Larnoy Phorjai, the man broke into the store with a hammer and a firearm, wearing a black helmet to conceal his face before breaking a display case and swiftly escaping with some gold chains.
The owner's husband grabbed a gun from the store and fired at the thief, following him outside with a male employee.
Around seven employees, including the owner and her husband, were at the jewelry store during the incident.
The store owner said on her social media that all the employees were unharmed, but she and her husband received minor injuries from shattered glass due to the thief's forced entry. It is estimated that he stole valuables worth over LAK 1 billion (USD 55,068) this time around.
The same man is believed to have been involved in the recent high-profile robberies this year at jewelry stores in Viewmall Shopping Center, Vientiane Center shopping mall, and Sikhai Market after he escaped prison.
Vientiane police have not yet commented about the incident.
This story is currently developing and will be updated with more details once they are available.