SYDNEY, AUSTRALIA, –
Media OutReach
– 17 July 2023 – Y Suites, a prominent provider of student accommodation in Australia, is expanding its presence with new locations in Sydney and Canberra —
Y Suites on Gibbons
and
Y Suites on Moore
. This strategic move underscores the company's commitment to providing quality living spaces with top-tier amenities, building on their well-established presence in Melbourne and Adelaide.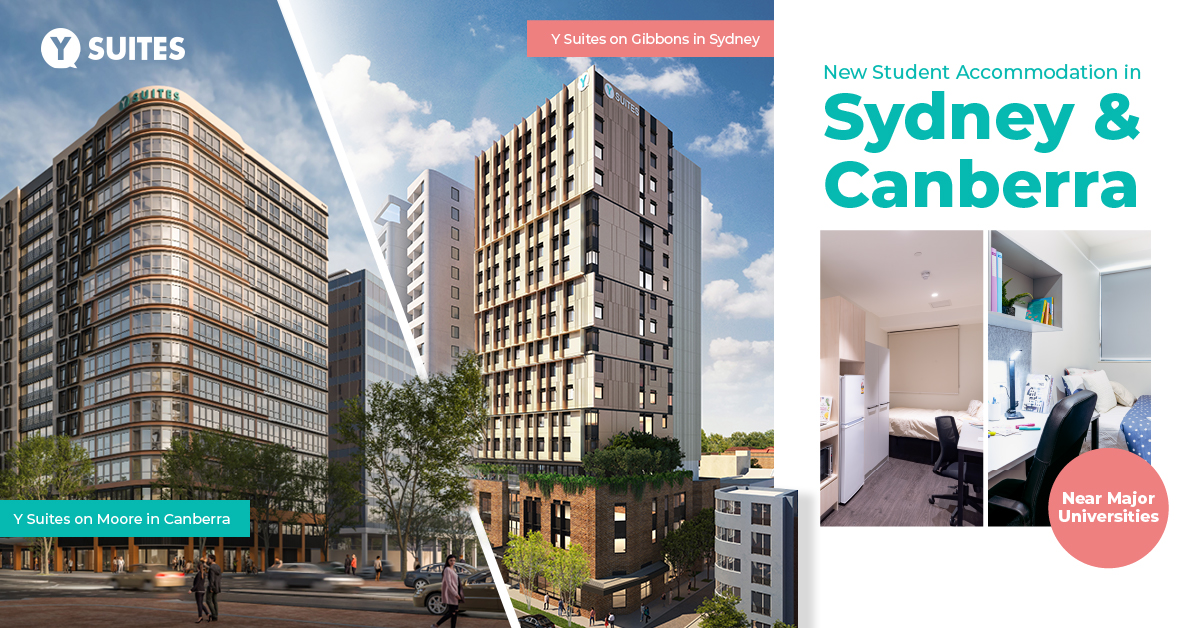 These properties offer a supportive and enriching environment for international students. The accommodation is designed to encourage independent living, with features such as kitchenettes and private study areas, allowing students to cook and study at their own pace. Situated in prime locations near major universities, Y Suites on Gibbons and Y Suites on Moore aim to ease the transition for students studying abroad and ensure their utmost comfort and convenience.
New Doors Open in Sydney and Canberra
The surge of international students in Australia has underscored a significant challenge — a
critical shortage of suitable accommodation and soaring rents
, as highlighted by The Straits Times. With these issues particularly pronounced near universities, finding quality and affordable housing has become increasingly difficult for international students.
Y Suites' expansion into Sydney and Canberra, with the new locations of Y Suites on Gibbons and Y Suites on Moore, provides a solution to these challenges. Y Suites is committed to placing the student experience at the forefront of its mission. This is reflected in the creation of supportive environments that cater to the needs and interests of international students as they transition to studying abroad in Sydney and Canberra. The variety of room types in these locations is just one aspect of how Y Suites strives to provide a conducive space to live and study in.
The Y Suites Difference: Beyond Student Accommodations
Both Y Suites on Gibbons and Y Suites on Moore are located near city centres, providing students with access to universities, shopping centres, and public transport networks.
International students have the flexibility to select from a range of accommodation types at Y Suites, depending on their preferences and budget. They can choose between private studio apartments for a more independent living experience, or shared apartments for a communal living atmosphere.
In addition to accommodations, Y Suites also organises networking and socialising events to foster a sense of community among its residents. The Y Community Experience Programme (Y-CEP) includes a series of events and activities designed to help students acclimate to life in a foreign country and build connections with their peers.
Furthermore, Y Suites' inter-city accessibility provides international students with the convenience of accessing amenities at any Y Suites location across Australia – a feature that comes in handy for those travelling around the country.
For more information about Y Suites and the accommodation options they offer, visit their website at
www.ysuites.co
.
Hashtag: #YSuites

https://au.linkedin.com/company/ysuites

https://www.facebook.com/ysuites

https://www.instagram.com/ysuites/
The issuer is solely responsible for the content of this announcement.
Y Suites
Established in 2020 under Wee Hur Hospitality, a subsidiary of the Singapore-listed Wee Hur Holdings Ltd,

Y Suites is a student accommodation brand dedicated to enriching the student living experience. Prioritising customer service,

environmental sustainability, and technological integration, Y Suites provides

well-equipped facilities and supportive staff to foster a dynamic student community.