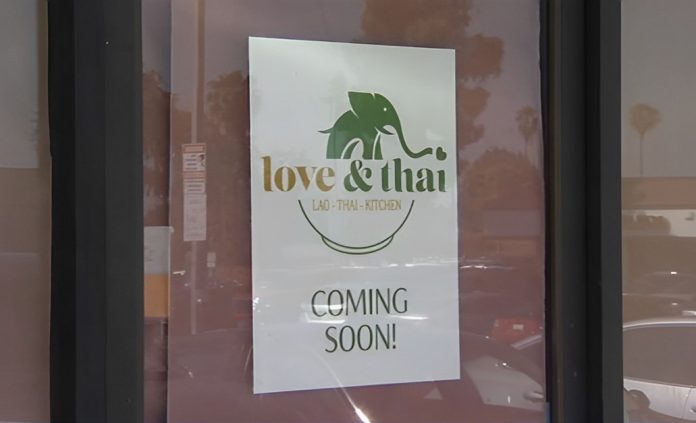 After false allegations against David Rasavong and his Fresno, California-based restaurant Tasty Thai caused the business to shut down in May, the owner is thrilled to be opening his new restaurant, thanks to the outpouring of support from his customers.

David's parents immigrated to the US from Laos in 1981, where they began building a life in San Francisco. However, the Rasavong family relocated to Fresno, California, 22 years later.
While living in Fresno, David opened a Lao-Thai restaurant named Tasty Thai. Merely six months after, the unfounded and racist allegations surfaced.
It all began when a woman named Maria Alvarez Garcia mistook a dog next door with its paws tied up and no access to water as potential fodder for the restaurant.
Garcia subsequently posted videos alleging animal abuse, prompting online commenters to speculate that the restaurant served dog meat due to its proximity to the incident.
Despite a complete lack of evidence, the restaurant began receiving death threats and negative comments via social media and phone calls, ultimately leading to its closure for safety reasons.
"I remember facing racism while growing up in San Francisco, mainly from other children who didn't know better and teased me. I never expected to encounter such a situation as an adult," David said to the Laotian Times in an email interview.
Throughout the period when the allegations emerged, David emphatically stated, "Tasty Thai does not serve dog meat. Just because we're an Asian restaurant? That's disgusting." He added, "We are currently exploring options to relocate and open a new Tasty Thai to carry on my parents' dream."
Looking back at the harrowing time, David said, "Closing Tasty Thai was heartbreaking, especially when our business was thriving, and the neighborhood had warmly embraced us upon our opening. However, due to the threats, hatred, and harassment, we chose to close in order to ensure everyone's safety."
Months later, David is finally able to open a new restaurant in a safer location within a shopping center at the corner of Chestnut and Butler Avenues in Fresno, California, alongside supportive neighboring businesses.
His new restaurant, Love & Thai, derives its name from the love his parents put into their cooking, always treating customers like family and cooking for them as if they were their own kin. However, it also conveys a message that hate and racism cannot be countered with more hate, but with love.
David explained that amidst the hate he received, there was also an outpouring of love and support from the community, online influencers, and local media once the truth became evident.
Now, love is the driving force behind David's new restaurant, as symbolized by the affection he received from his parents in both his personal life and work.
"LOVE is how we're going to heal, LOVE is how we're going to rebuild, and LOVE is how we're going to serve our community," stated the restaurant's Facebook page.
David added, "Love & Thai will pay tribute to my parents and their life's journey. We will strive to continue doing what my parents have always done – spreading love one bite at a time."
He went on to talk about the challenges of opening a new business, "There are delays, unexpected expenses, and stressful planning. Just because you are open does not guarantee you will be a viable business. Everything is still a risk."
Although an official opening date for his new restaurant has not been set, David expressed optimism, saying, "We're hopeful to open in September. We're doing our best to prepare the restaurant before the end of the month."
Regarding the allegations of dog abuse, Fresno police have confirmed that there was no abuse involved.
An investigation into a potential hate crime has been initiated against the accusers, but it is still ongoing.