Laos, Russia enhance bilateral cooperation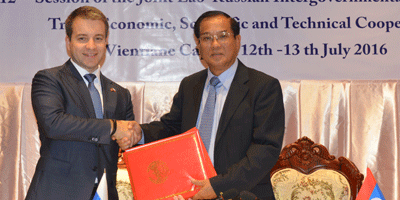 Laos and Russia have reaffirmed their commitment to strengthening intergovernmental cooperation in trade, economic, scientific and technical affairs after reaching an agreement yesterday
The agreement was signed in Vientiane by Minister of Investment and Planning, Dr Souphanh Keomixay, and Russia's Minister of Telecom and Mass Communications, Mr Nikolay Nikiforov.
The signing of the agreement took place on the sidelines of the 12th Session of the Joint Lao-Russian Intergovernmental Commission on Trade, Economic, Scientific and Technical Cooperation, held from July 12-13. The cooperation aims to boost friendship ties and expand comprehensive cooperation to improve socio-economic development between Laos and Russia.
During the meeting, the two sides indicated the importance of the implementation of the arrangements made between Lao Prime Minister Mr Thongloun Sisoulith and President of the Russian Federation Mr Vladimir Putin on May 19, on the sidelines of the Russia-Asean Summit.
The two parties agreed to take further steps aimed at the elaboration of the legal framework of Lao-Russian ties, to facilitate finalisation of the drafts of the following agreements on air services and mutual cancellation of visa formalities.
The two sides agreed to further discuss and exchange information and best practices in the field of innovative telecommunication technologies, industrial software, application and utilisation of "E-government" technologies as well as government e-management tools.
In the field of science and education, the two sides expressed satisfaction with the progress made in the admission of Lao students to Russian educational institutions in the 2016-17 academic year under the quota set by the Government of the Russian Federation.
The Lao side asked Russia to increase the number of scholarship grants for Lao students from 15 to 45 per academic year. The two parties noted the need to create favourable conditions for learning Russian in Laos, namely at the Russian Centre of Science and Culture, National University of Laos, using distance learning technologies supplied by the Pushkin Institute. The two sides agreed to sign an MoU on cooperation in Education and Training, Research and Development of Computer Electronics and Information Technologies between the Ministry of Science and Technology of Laos and the University of Tomsk in the near future.
They also agreed to develop cooperation in promoting tourism products in Russia and Laos. In this regard the two sides agreed to arrange information and best practices exchange between the Lao and Russian tourism sectors (hotels, tourist sites, organisations and agencies) and the exchange of delegations in the spheres of culture and tourism. The Lao side asked the Russian side to help create a tourism-related website in Russian to help establish a training programme for Russian-speaking guides.
Laos also proposed cooperation in healthcare, particularly the development of human resources in radiology.
In future work, the two sides agreed to strengthen the cooperation of the secretariats of the national parts of the Commission to follow up the implementation of the decisions of the Commission. They agreed that the 13th session of the Commission will be held in the Russian Federation in 2017.
By Phaisythong Chandara