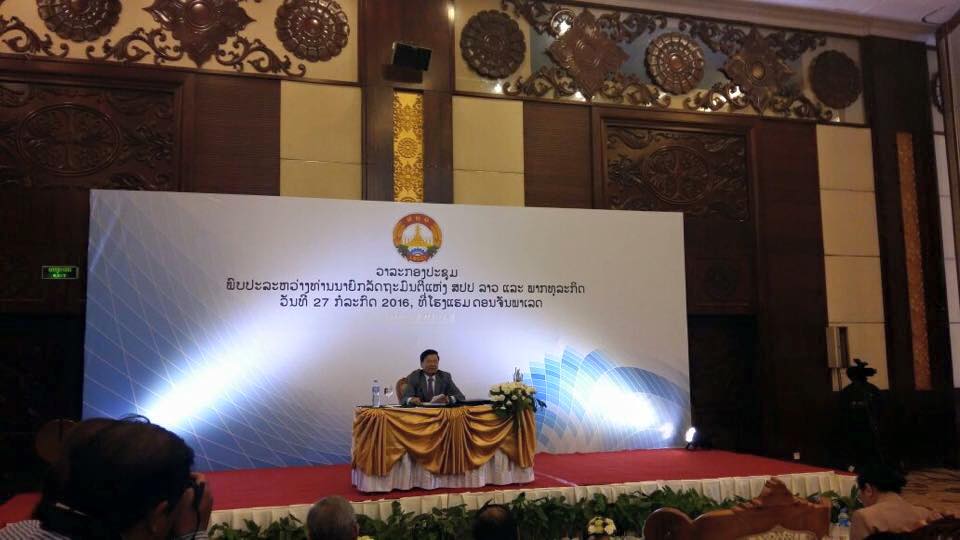 Business operators have called on the government to revise certain policies and regulations to better facilitate business operations and boost productivity.
The call was made at recent meeting organised by the Lao National Chamber of Commerce and Industry (LNCCI) to explain the Resolution adopted by the 10th Congress of the Lao People's Revolutionary Party.
The event was attended by about 500 business operators from various sectors.
"Many issues were put forward for discussion by business operators. We resolved some problems and asked the government to revise some policies and regulations in the interests of smoother business operations and productivity," LNCCI President Mr Oudet Souvannavong said.
The meeting noted that there were problems with customs duty and tax collection. In particular, value-added tax and advance tax payments are complex and affect business operations and investment in every sector.
For example, the payment of advance value-added tax in the agriculture processing industry means that investors need more capital, which raises their costs and makes them unable to compete.
Business operators have asked the government to cancel this advance value-added tax. They have set up a special taskforce comprising representatives from government and business sectors to address the problem of having to deal with several tax payments and a complicated system. This would improve the lump-sum tax policy and make tax collection easier, so that more businesses were able to pay value-added tax, Mr Oudet said.
Other issues encountered by business operators include a shortage of labour, both skilled and unskilled, for which there is an increasing demand in the processing, agriculture, tourism and service industries.
To tackle the problem, they asked the government to review its overseas labour policy so that more workers would be available in Laos. More vocational training was needed, along with better quality skill development centres, it was noted.
The government should also improve conditions and welfare in schools and workplaces, Mr Oudet said.
He also mentioned issues concerning legislation, saying many laws are being passed that cannot be implemented because they are not relevant to actual business practices.
Mr Oudet said business operators asked the government to allow the LNCCI and business associations a greater say in amending and drafting regulations from the outset, so they could advise the ministries concerned.
In addition, it was recommended that the government strictly implement laws concerning the drafting of legislation to ensure that the parties involved were able to implement laws that are endorsed by the National Assembly.
Representatives from business associations and the LNCCI also reported on other problems encountered in various areas.
Source: Vientiane Times