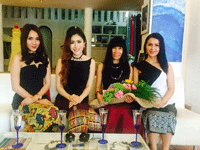 Popular fashion designer and owner of the Phaeng Mai Gallery in Vientiane, Ms Viengkham Nanthavongdouangsy, is taking her newest collection to the runway at this year's Lao Fashion Week in September.
Ms Viengkham revealed the details around the unveiling of her collection last week on Lao Star's television programme "Women Today".
This is the third year running that Phaeng Mai Gallery will send a collection to the biggest fashion event in the country. The gallery will also send a collection from its Khang line.
This year's focus will be themed "High Fashion", featuring clothing made with a details-orientated production process as well as more delicate materials.
Both the fabric and designs will be made by Ms Viengkham with all articles being hand-sewn by the seamstress. The main colour of the collection will be white with some pieces being pastel colours to emanate a "soft look".
Laos is really looking to develop its fashion industry on a par with other countries in Asean and for that reason Ms Viengkham encourages people to come out and get behind the annual fashion event to empower Lao fashion designers.
She said she started a business dealing in Lao silk in 1993 when the Phaeng Mai Gallery was also established. Khang became a line at the gallery in 2008 incorporating modern silk fabric designs.
It was during Wow Fashion Week that items from the Khang collection were displayed to promote a more modern style designed with the gallery's main intent to conserve traditional Lao fashion.
Phaeng Mai continues to create fashion in a style in keeping with Lao tradition and is also interested in the promotion and conservation of local fabrics, especially silk.
The Khang line is an inspiration of the gallery that while looking to conserve Lao culture is designed with a more modern edge in hopes of appealing to an international audience.
The word Khang comes from the name of the insect that is used in the dying of silk in natural colours – violet, purple, pink, and red.
Ms Viengkham says she started weaving when she was six years old with her mother and grandmother in the family business and fell in love with the idea of conserving the weaving culture of Lao women.
The Phaeng Mai Gallery has weaving rooms and areas for the production of Lao silk so people who are interested may visit the gallery to observe the weaving process and the dying of silk along with other activities.
Each item takes several days to weave which requires a love of weaving and a devotion to silk that Ms Viengkham says helps her endure the struggle to bring back Lao silk's popularity and interest in the public's eyes.
Source: Vientiane Times