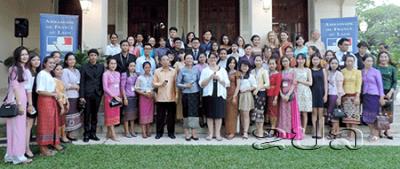 The first French language summer university programme in Laos started on Monday Jul 25 at the Dongdok campus of the National University of Laos.
The summer university is scheduled to last for one week and provides the opportunity for students from five neighboring countries to practice their French language skills while discovering the culture of their neighbours.
Ms. Claudine LEDOUX, French Ambassador to the Lao PDR, welcomed all the participants at the French Residence on Tuesday Jul 26, and expressed her hope that the students from Laos, Thailand, Cambodia, Vietnam and China would have an enjoyable time learning French in Laos and sharing about their cultural heritages.
Since 2008, summer university events have been organized throughout Asia in order to provide an opportunity for exchanges and sharing, to promote Francophonie at the university level, and to enhance the attractiveness of French courses in Southeast Asia with the support of the Agence universitaire de la Francophonie (one of the largest university systems in the world that extends beyond French-speaking people).
The French Department, Faculty of Letters, National University of Laos, the Agence universitaire de la Francophonie and the Pôle d'activités francophones worked together to organize the summer university programme in Laos.
The theme chosen for this year is "Lao Cultural Heritage".
Topics include gastronomy, handicrafts and historical monuments with the objective of improving the students' knowledge of the French language while promoting the discovery of different regional cultures.
This sharing between people from neighbouring countries is the very idea of Francophonie – conveying values of humanism and respect for the diversity of cultures.
French is the official language of many countries.
It is also one of the most spoken languages in the world and one of two, along with English, to be spoken on five continents. France fully supports the work of the International Organization of the Francophonie and the Agence Universitaire de la Francophonie for which France is the main contributor, especially in their educational missions and training.
Source: KPL