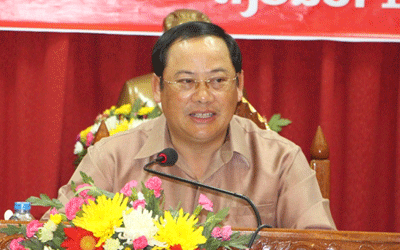 Malaysia tops the list of investors in Champassak province during the last nine months of this year which covered 37 percent of all foreign investment in the province.This was as reported by Provincial Governor Dr Bounthong Divixay when he and Deputy Prime Minister Dr Sonexay Siphandone met with provincial authorities in the province on Monday.
While second on the list of investors, Vietnam reached 22 percent of foreign investment with third place going to Thailand covering 20 percent of foreign investment, he said.
A total of eighteen foreign countries have been investing in the province with 172 projects, worth US$1,360 million (10,880 billion kip) covering 66.42 percent of all investment in the province.
The plan total domestic investment was reached with 179 projects, worth 5,501 billion kip or 33.58 percent of all investments, Dr. Bounthong noted.
Encouraging domestic and foreign investment in the private sector has become one of the most important responsibilities of the provincial authorities, as the number of investors has grown continuously over the past few years, Dr Bounthong said.
This fiscal year, the province set plans to expand its economy by 8.1 percent, increasing the gross domestic production (GDP) to 12,766 billion kip with an average capita a year of US$2,263 (about 18.1 million kip).
The agriculture sector should increase 2.2 percent, reaching 26.1 percent of the GDP, the industry sector must rise 9.4 percent to cover 34.5 percent of the GDP while an 11.2 percent increase of the service sector or 39.4 percent of the GDP is needed, Dr Bounthong explained.
Over the last nine months of the year, the province has implemented 63.5 percent of plan and he expected that the province will be able to reach its targets.
The value of exports over the last nine months reached almost US$150 million (1,193 billion kip) or 87 percent of the annual plan and had increased last year by 20 percent, while the value of imports reached US$111 million (about 891 billion kip) or 73.4 percent of the yearly plan.
Trade volume between Laos and Malaysia last year reached US$26.1 million, which was an 8 percent increase on the previous year.
While the investment value by Malaysia from 2011-2015 exceeded US$569 million, ranking the country eighth among foreign investors in Laos at the time.
Investment projects usual involve the industrial, mining and energy sectors, according to the Ministry of Planning and Investment.
DrSonexay has directed provincial authorities to continue to take their responsibility in leading the economic expansion by increasing coordination in implementation from provincial to local levels.
He also stressed to increase cooperation with international affairs, boost anti-corruption measures, to try to collect provincial revenues on target, and to attract more visitors and investors coming to the province.
Source: Vientiane Times