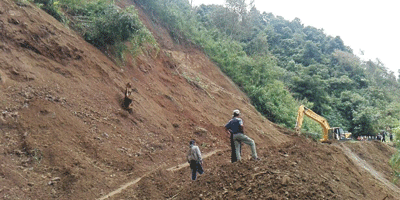 Many sections of main roads in central and northern provinces have been blocked or collapsed following landslides caused by the effects of Typhoon Dianmu on the weekend.Roads falling away or being blocked have hindered buses and other vehicles making their way along major northern routes causing lengthy delays.
In response, local public works and transport sectors are working with private contractors to employ excavators and other machinery to repair the worse affected areas.
Meanwhile, provincial authorities are endeavouring to estimate the cost and ask for assistance from the government.
Routes badly damaged include 68km of Road No. 4C between Kasy district, Vientiane province to Nan district, LuangPrabang province, and Road No. C between Xiengngeun district and Pakone village, Nan district in LuangPrabang province, LuangPrabang provincial Public Works and Transport official, Mr. Khamsy Souvanthong told Vientiane Times yesterday.
The some sections of Northern Road No. 13 between Vientiane province and LuangPrabang province, in particularly near PhouPhiengfa restaurant, are also affected by landslides along with other road sections in other northern provinces.
Numerous rural roads have also been damaged or temporarily cut causing motorists considerable inconvenience.
At present, only LuangPrabang province has received first aid after it was affected by flooding, said the emergency response unit head, Mr. Ka Xaysana said.
The Ministry of Natural Resources and Environment joined with the Ministry of Labour and Social Welfare and other relevant sectors to hand over 100 million kip and some kitchen materials to provincial authorities on the weekend for emergency assistance.
While in other impacted provinces, the National Disaster Management Committee under the Ministry of Natural Resources and Environment is proposing the government approve funding assistance and seek additional funds from the public. A total seven provinces, Phongsaly, Huaphan, Oudomxay, Bokeo, LuangPrabang, XiengKhuang and Xaysomboun have been affected by flooding.
Heavy rain caused the water level of rivers especially the Mekong River and its branches to flood agriculture cultivation, as well as schools and houses in low lying land.
Flash flooding also killed livestock, destroyed irrigation channels and wooden and concrete bridges were destroyed and two people in LuangPrabang were killed.
Provincial authorities are now collecting information on damages for a report to request assistance from the government.
Only two provinces had estimated the damages bill so far with Phongsaly reporting about 18 billion kip in damage, with more than 500 million kip in Bokeo but the devastation left behind by Typhoon Dianmu was expected to mount, Mr. Ka said.
This year, the country has been impacted by two tropical storms, Typhoon Nida which crossed from Southern China at the beginning of this month and Typhoon Dianmu which passed across the northern provinces on the weekend, according to the Meteorology and Hydrology Department.
Source: Vientiane Times