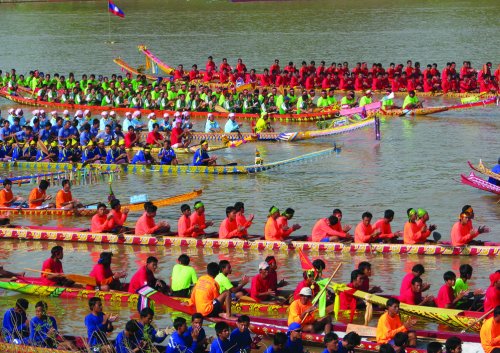 A team from Vientiane rowed past all rivals to capture top prize in LuangPrabang's province's annual boat racing festival held on Nam Khan River in Luang Prabang district yesterday.Teams from Xayaboury and LuangPrabang grabbed second and third prizes in this year's competition with participation from 29 crews.
The boat racing festival on Nam Khan River is the biggest annual festival in Luang Prabang province and aims to promote Lao culture and customs to visitors.
The boat racing festival in Luang Prabang province is scheduled earlier than most boat racing festivals in Laos, most of which are held to coincide with the celebrations to conclude the Buddhist Lenten period that is still underway.
Yesterday's event was attended by the Luang Prabang's Provincial Governor Mr. Khamkhanh Chanthavisouk and other officials.
This year's boat racing happened to fall at the same time as Boun HorKhapadapdin festival which sees residents and Buddhist devotees prepare offerings for their ancestors and deceased relatives.
The LuangPrabang Boat Racing Festival has grown in popularity.
Last year there were 34 teams which entered the race. This year saw 29 teams of 45 to 50 rowers take part.
The majority of the boats came from the LuangPrabang, Xayaboury and Vientiane.
The winning Vientiane received a trophy, cash and prizes to the value of 44 million kip.
Second place went to a Xayaboury team who took home a trophy plus cash and prizes to the value of 23 million kip.
Third place was awarded to a team from LuangPrabang who sailed away with a trophy and cash prizes to the value of 19 million kip.
Aside from the boat races, the main attraction was a massive fair held in the city to coincide with the BounHorKhapadapdin festival.
It drew many people looking to shop for bargains at stalls along Kilometer One of Sisavangvong Road.
After the boat races, the evening's festivities included traditional dancing and singing, student performances, and live bands.
According to tourism statistics from the Luang Prabang provincial Department of Information, Culture and Tourism, the number of tourist visiting Luang Prabang province reached 500,000 people in 2015.
Luang Prabang is considered the top tourism destination in Laos, with 83 percent of visitors citing it as their first choice, followed by Vientiane.
Tourists generally visit temples, admire the architecture, make trips to waterfalls and caves, and observe the lifestyles of local people while enjoying options of local and international cuisine.
Luang Prabang was awarded a gold medal after being voted World's Top City by readers of the British travel magazine Wanderlust in 2006, 2007, 2008, 2010, 2011, 2012 and 2015.
Source: Vientiane Times