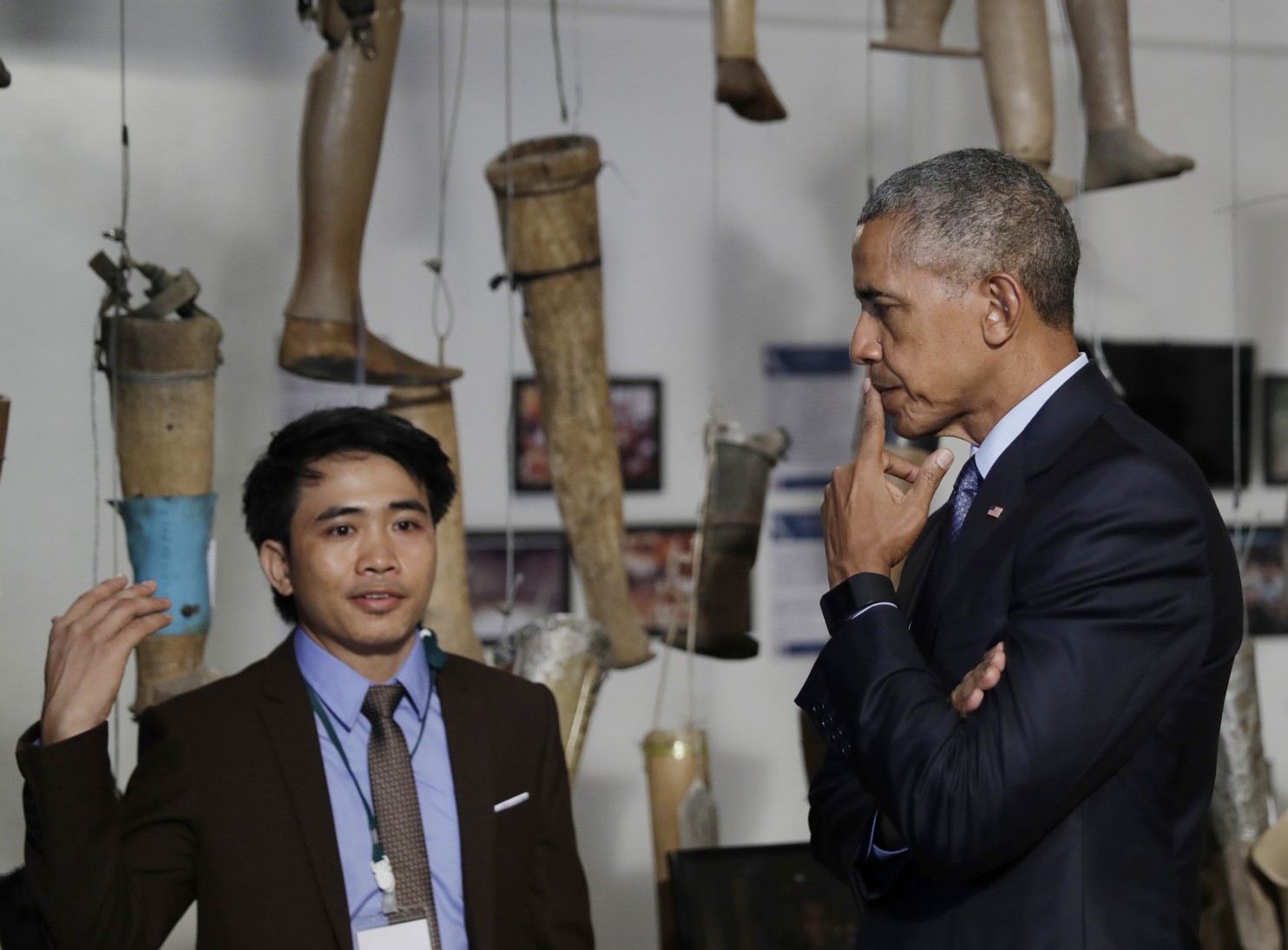 VIENTIANE, Laos — The Latest on President Barack Obama's historic visit to Laos (all times local):
12:40 p.m.
President Barack Obama is touring a Buddhist temple that's an important symbol of Lao heritage and culture.
His first stop was a carriage house at the Wat Xieng Thong temple in Luang Prabang.
Dressed in shirt sleeves and black socks, Obama looked in awe at a large golden ship adorned at the bow with golden dragons.
 Obama said "it's gorgeous" when reporters accompanying him asked his opinion.
Construction of the temple began in the 16th century when Luang Prabang was the seat of Lao royalty. The temple was used for coronations and was under royal patronage until 1975, when the monarchy was abolished. It is one of Luang Prabang's most popular tourist destinations.
___
12:15 p.m.
President Barack Obama is continuing his historic visit to Laos with a trip to the city of Luang Prabang.
Located in mountainous northern Laos, the city is on UNESCO's World Heritage List. Obama plans to tour a Buddhist temple, before opening himself up for questions from young Southeast Asians at a town hall-style event at a local university.
Upon arrival at the airport, Obama shook hands with the officials who were on hand to greet him.
And with a slight bow, he accepted flowers from Miss Luang Prabang. She bowed back.
___
10:55 a.m.
President Barack Obama says Laotians have been living under the "shadow of war" for four decades.
Obama is touring a rehabilitation center in Laos that treats victims of bombs the U.S. dropped during the Vietnam War. Obama says the U.S. dropped some 270 million cluster bombs, including 80 million that never exploded and remain a threat.
He says the war wasn't contained to the battlefield because the bombs have killed farmers and of children who thought they could be toys.
The president says the U.S. has a profound moral obligation to help clean up the unexploded bombs. He's touting $90 million the U.S. will spend over three years to aid the cleanup effort.
Obama is also telling the survivor of one of the bombs that he's inspired by him.
10:45 a.m.
President Barack Obama is touring a rehabilitation center in Laos that treats survivors of bombs the U.S. dropped on the country during the Vietnam War.
Obama's visit to Laos is the first by a sitting U.S. president. He's touring the U.S.-funded Cooperative Orthotic and Prosthetic Enterprise center in the capital, Vientiane.
Obama plans to meet with injured survivors and be briefed by center officials.
During the Vietnam War, the U.S. dropped hundreds of millions of tons of explosives, including 80 million bombs that never exploded. Obama has announced the U.S. is roughly doubling financial help for bomb-clearing efforts to about $90 million over three years.
Source: Associated Press