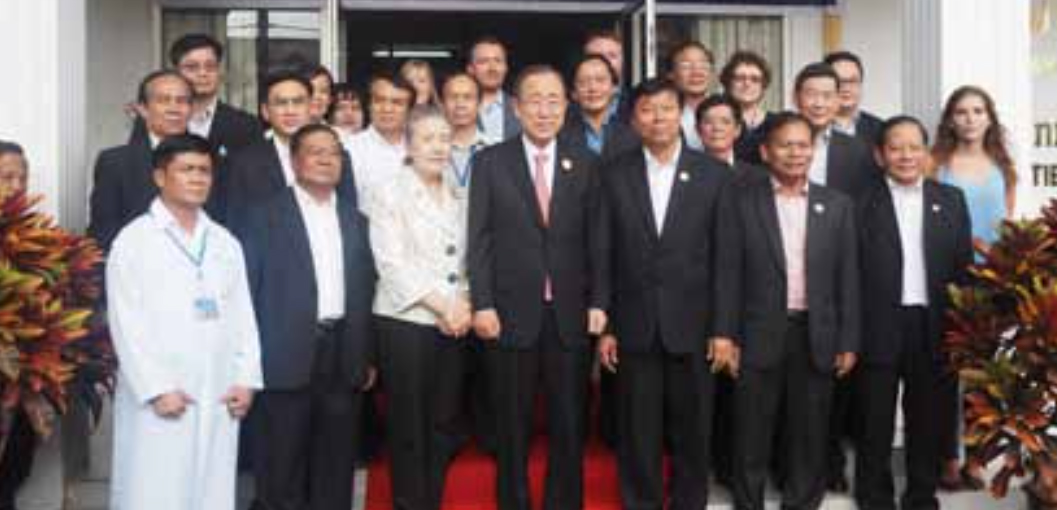 UN Secretary-General Ban Ki-moon yesterday visited a rehabilitation centre for drug addicts at Sisattanak District Hospital in Vientiane to observe the treatment and counselling services provided for drug users.
Opened in January 2015, the treatment centre has served as a pilot initiative for Laos, offering community-based treatment and counselling services to drug users and their families from the surrounding area.
Like other parts of Laos, Sisattanak district has been badly impacted over recent years by a steadily increasing supply of inexpensive methamphetamine. The United Nations Office on Drugs and Crime (UNODC) country programme that supports the treatment centre has started implementing similar community-based treatment programmes in seven additional district hospitals, with plans t o expand to five more.
As part of the programme, medical staff have received training on drug treatment and counselling approaches, and have visited other hospitals to learn from the experience of other medical practitioners.
The Sisattanak treatment centre and others supported by the UNODC programme are also provided with equipment and medicines needed for their work.
During his visit, Mr. Ban met with patients and their families, as well as doctors, nurses and outpatient counsellors, to discuss the community-based treatment approach, and the importance of having a treatment centre in the community close to where patients live.
Director of Sisattanak District Hospital Dr Khone savanh Thephavong said that about 170 drug users had received treatment at the centre, with most coming from Vientiane and the provinces of Borikhamxay and Savannakhet.
The Secretary-General commended the Lao government for embracing the programme, saying Having a treatment centre in the community close to young people and families impacted by methamphetamine is a positive step. While it is very concerning that the drug problem has continued to deteriorate here in Laos and in the region generally, it is good to see that UNODC assistance through the community-based treatment model is making a difference in people's lives.
As he left the clinic, Mr. Ban spoke to staff and praised the excellent work being done to promote a comprehensive package of drug use prevention, treatment and care interventions that is based on evidence.
I am impressed by the dedication of the staff, but I am even more impressed by the young people and families who had the courage to discuss how drug use has impacted their lives. They need support, and this is the kind of programme the United Nations can, and should, expand.
He also said the United Nations would work with the Lao government to provide alternatives to incarceration for drug users who are victims of the drug trade and who are often stigmatised. He emphasised that efforts need to be intensified quickly in both the country and the region to help develop drug use prevention, care and treatment programmes within communities and with family support, with a focus on vulnerable young people.
Today Mr. Ban will attend a launch ceremony for the national Sustainable Development Goal 18 on Live safe from UXO, a signing ceremony of the Lao PDR-UN Partnership Framework 2017-2021, and visit the UXO Lao Training Centre.
Source: Vientiane Times