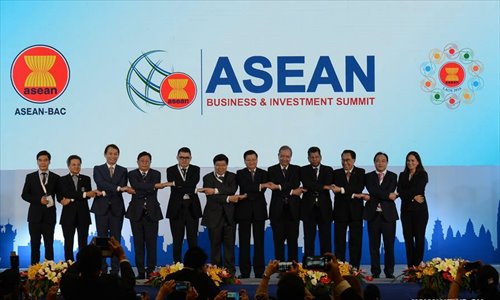 The ASEAN Business and Investment Summit (ABIS) 2016, hosted by the ASEAN Business Advisory Council (ASEAN-BAC) from September 5-7, has called upon businesses across ASEAN to play a more collaborative role to take advantage of the newly established ASEAN Economic Community (AEC) and work on the implementation of the measures agreed upon.
The summit also called for the embracing of global megatrends that have been highlighted as a new focus area in the AEC Blueprint 2025 as essential for ASEAN to recognise and capitalise on for its regional integration agenda.
From the first to the third day of the summit, ASEAN leaders, business leaders, entrepreneurs and key decision makers shared their experiences and discussed issues that impact the region's investment attractiveness and business potential.
The meeting also focused on opportunities, requirements and questions faced by the private sector and explored the myriad of possibilities brought forth by the onset of the AEC.
Topics discussed included complementing regional and global free trade agreements, fast tracking business development and integration in energy, infrastructure and environment, global megatrends and regional integration, AEC sustainable economic development, the future of technology, MSMEs as an engine for growth, the role of youth and women in business, and trade and transport facilitation.
The ASEAN Business and Investment Summit has become a significant platform for deepening mutual understanding and expanding ASEAN business ties, according to the CEO of KPMG in Thailand, Myanmar and Laos.
It fully reflects the growth momentum of regional business ties and the commitment to enhance cooperation between business communities.
ASEAN's growth potential is huge with a population of more than 600 million and a nominal GDP of US$2.31 trillion. Its diversity gives it great strength.
AEC integration offers the opportunity to capitalise on diverse resource endowments, comparative advantages of geography, factors of production, and distinct levels of human capital both education and demographic-based.
At the international level, ASEAN is one of the regions to become a major economic force in Asia and a driver of global growth. To reach that goal, greater cooperation between the public and private sectors in ASEAN countries needs to be in place.
The summit offers a great opportunity to set out a future direction and to come even closer to achieving the common goals in support of the ASEAN Community and ASEAN centrality.
At the closing ceremony yesterday, Chairman of the ASEAN Business Advisory Council (ABAC), Mr Oudet Souvannavong, expressed his gratitude to all the visiting leaders, speakers, ABAC members, and businesses from within and outside of ASEAN. He also thanked the sponsors and strategic partners who supported the organisation of the event.
In his closing remarks he informed the audience that next year the ABIS 2017 will be held in the Philippines.
The ABIS 2016 was organised by the ASEAN Business Advisory Council and the Lao National Chamber of Commerce and Industry as the lead organisers, and co-organisers of the AEC Symposium with the ASEAN Secretariat.
Source: Vientiane Times