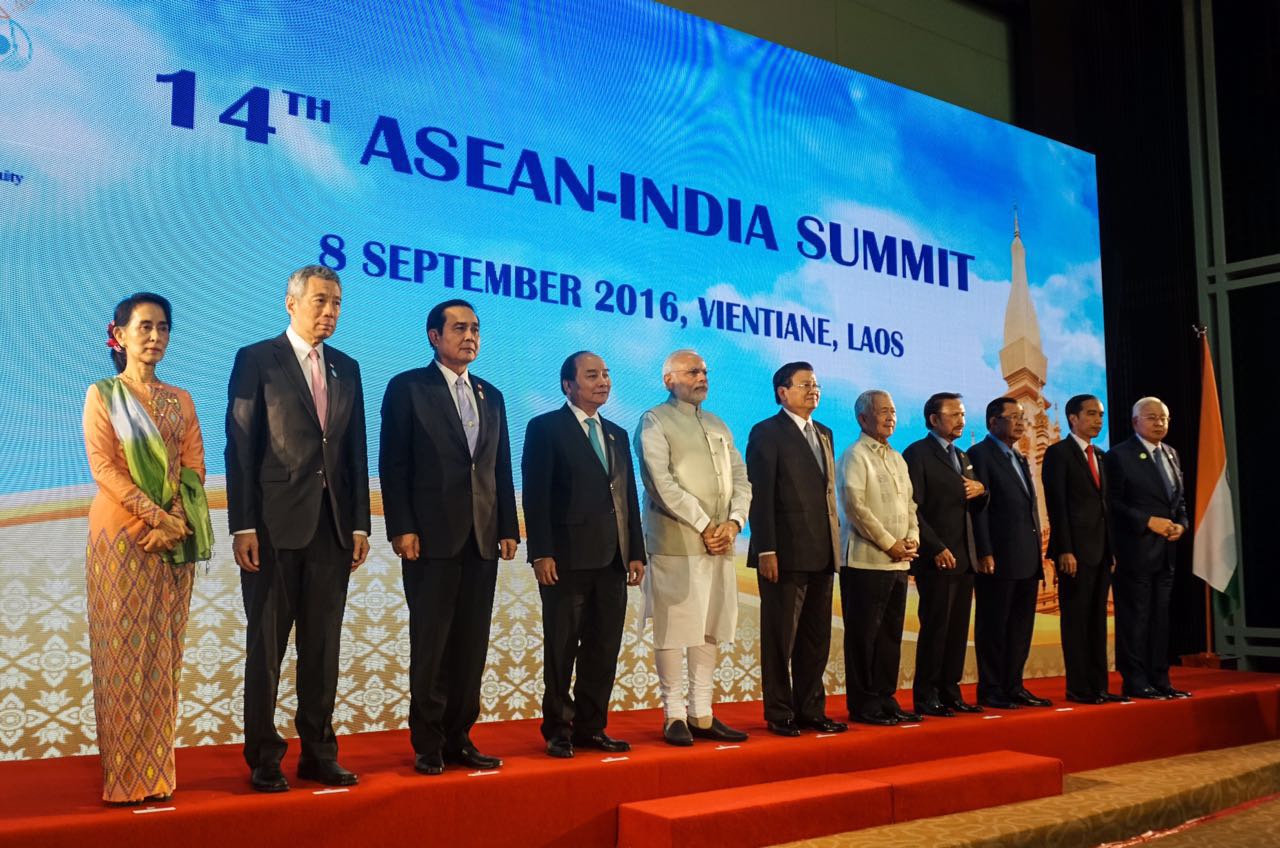 Following the ASEAN Summits and Related Summits in Vientiane last week, the bloc's leaders agreed to carry out various activities to commemorate the 25th anniversary of ASEAN-India dialogue relations next year.
Chairing the 14th ASEAN-India Summit last week, Lao Prime Minister Thongloun Sisoulith said he highly valued the 24 years of cooperation between ASEAN member states and India, particularly in terms of enhancing connectivity, trade, investment, information and communications technology, and people-to-people exchanges.
At the summit, leaders also said they appreciated India's commitment to closer engagement with ASEAN through its Act East Policy.
The leaders of ASEAN and India noted that both sides still have enormous potential to be tapped to bolster greater trade and investment interactions. The summit also underlined the importance of enhancing infrastructure and digital connectivity between ASEAN and India, including by utilising India's US$1 billion Line of Credit.
According to the Chairman's statement at the 14th ASEAN-India Summit on September 8, India commended ASEAN member states on the establishment of the ASEAN Community and reiterated its support for ASEAN's efforts in the realisation of the ASEAN Community Vision 2025.
ASEAN leaders welcomed Prime Minister of the Republic of India Narendra Modi's announcement of an additional contribution of US$50 million to the ASEAN-India Fund.
The meeting also noted that trade and investment between ASEAN and India has yet to reach its fullest potential. Total bilateral merchandise trade in 2015 amounted to US$58.7 billion, or about 2.6 percent of ASEAN's total trade.
Investment flows were robust with FDI from India into ASEAN increasing by 98 percent to US$1.2 billion in 2015. ASEAN leaders welcomed the progress on the Parties' ratification of the ASEAN-India Trade in Services and Investment Agreements and encouraged the remaining parties to do so as soon as possible.
ASEAN reiterated the importance of implementing these Agreements by all Parties to further contribute towards elevating ASEAN-India economic relations to a higher level.
ASEAN leaders expressed appreciation for India's strong support and commitment to the Initiative for ASEAN Integration (IAI) and agreed to further strengthen cooperation in other areas such as food and agriculture, trade facilitation, education, clean and renewable energy, tourism, health and well-being, SME development, and poverty alleviation.
The leaders also welcomed the signing of an MoU between India and Cambodia, Laos, Myanmar and Vietnam on the establishment of Centres of Excellence in Software Development and Training, including most recently with Vietnam on September 3, under the IAI-India cooperation framework.
The leaders also welcomed India's support for the implementation of the Initiative for ASEAN Integration Work Plan III (2016-2020) and capacity building initiatives.
Source: Vientiane Times