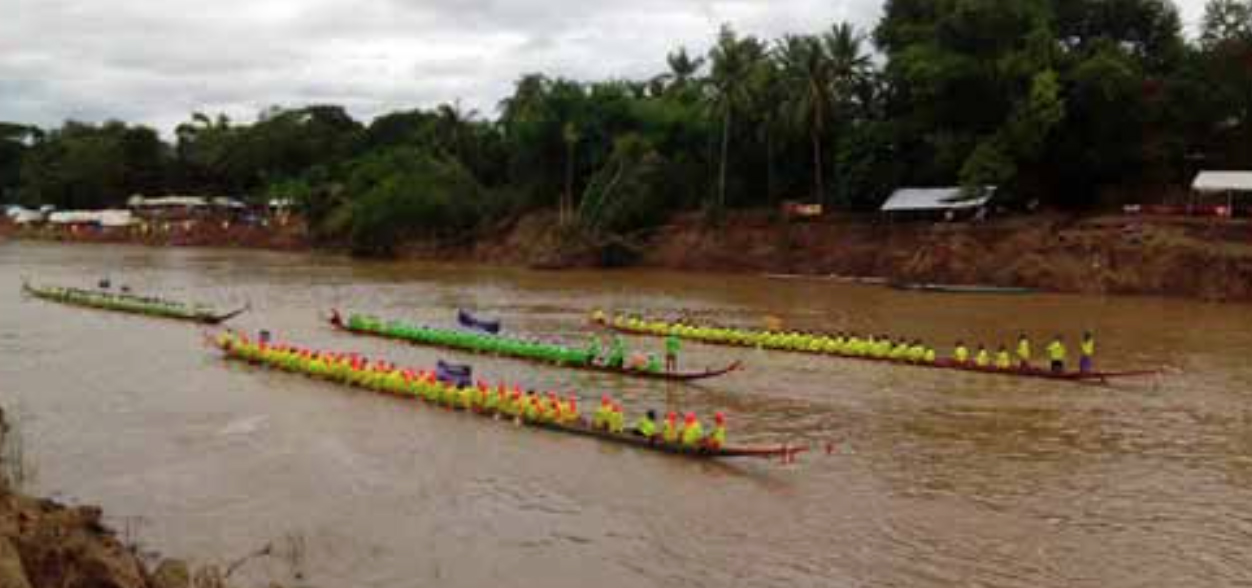 One of the biggest boat racing festivals in Vientiane will take place on the Mekong at the Inpeng Ethnic Culture Park near the Lao-Thai Friendship Bridge at the end of this month.
The festival from September 19- 25 will feature more than 20 racing boats from across the country in 12- and 55-rower events.
The boat racing festival is organised annually at the park alongside Thadeua Road in Hadxaifong district, aiming to preserve local culture and enhance friendship between the Lao and Thai peoples who live along the Mekong River.
The event will feature eight racing boats carrying 55 rowers and 16 racing boats carrying12 rowers, festival organising committee member Mr. Saly Sithisack told Vientiane Times yesterday.
The committee invites Thai competitors to take part in the races every two years and six boats from Nong Khai province participated last year. That meant there would be no boats from Thailand taking part in this year's event, he added.
"We have increased safety measures through lessons learnt from the tragedy in 2004, with the committee cooperating with the Department of Meteorology and Hydrology under the Ministry of Natural Resources and Environment to closely monitor the weather conditions," Mr Saly said.
In addition, rescue teams and boats will be deployed on the Mekong to respond to any problems or accidents, he added.
The final races will take place on September 25 from 8am to 4pm, with a prize of 10 million kip and a silver trophy going to the winning team with 55 rowers, 8 million kip and a silver trophy going to the second placed team, 7 million kip and a silver trophy to the third placed boat, while the fourth and fifth placed teams will receive 6 million and 5 million kip respectively.
The winning 12-rower team will receive 3 million kip and a trophy, while 2.5 million kip will go to the second team, 2 million kip to the third and 1 million kip to the fourth.
There will also be a street fair featuring a wide range of food, goods and handicrafts produced under the One District, One Product scheme from surrounding districts in Vientiane and Thailand.
Source: Vientiane Times