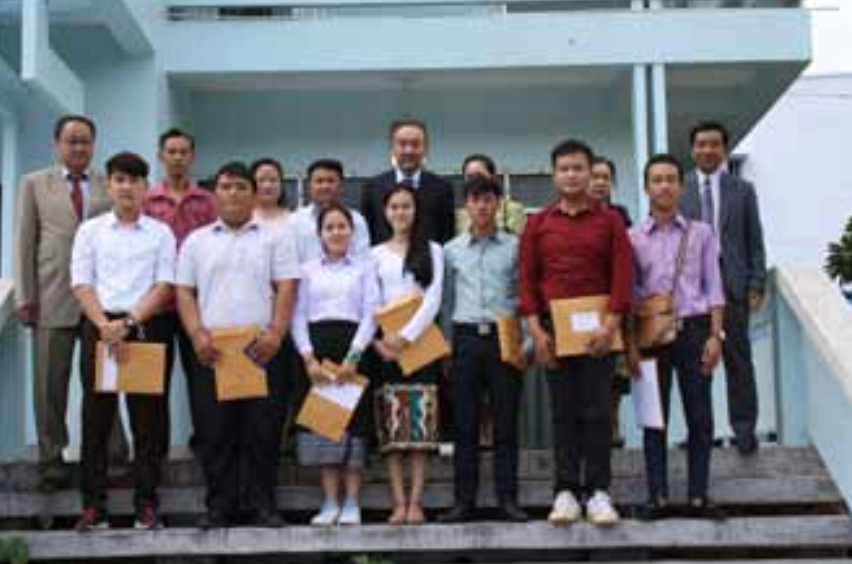 Mongolia has awarded eight Lao students to pursue their bachelor degree studies at colleges and other higher education institutes there under its exchange scholarship programme.
The students leave for Mongolia this week and will undertake courses in agriculture, international relations, IT, law, medicine, economics, mining and other subjects.
According to a statement from the Mongolian Embassy to Laos, students will take five to seven years to complete their courses.
The Mongolian Ambassador to Laos, Mr. Lodoidamba Galbadrakh, hosted a farewell reception at the embassy in Vientiane for students and their families to wish them good luck.
During the event, Mr. Galbadrakh congratulated the students on being awarded the 2016 Mongolian Scholarship and wished them well for their studies and their stay abroad.
"Human resource development is a key priority area for the Lao government as it moves up the ranks from the list of developing countries," he added.
The farewell was also attended by senior officials from the Ministry of Education and Sports and other involved sectors.
The scholarship covers full tuition fees, an annual living allowance and other expenses.
The scholarship is offered to outstanding students from Laos for them to pursue studies at the top colleges and other educational  institutes in Mongolia.
The recipients were selected on the basis of academic merit, leadership qualities, and the potential to contribute to community development in Laos.
The scholarship also aims to strengthen ties and promote greater friendship between students from the two countries through living and learning together.
Students who take up the scholarship will also act as bridges between the two countries.
Mr. Galbadrakh said the future was bright for the students who will act as good ambassadors for their country.
He also urged them to follow Mongolian traditions and its culture to strengthen cultural understanding between the two countries.
The knowledge and skills gained through these courses are all relevant to Laos' development needs.
Since 2007, over 50 Lao students have been awarded scholarships to study in Mongolia.
Laos and Mongolia established diplomatic relations in 1962. Since then, the two countries have witnessed many great achievements through their mutual development cooperation, leading to economic growth and a marked improvement in people's living conditions in both nations.
The two countries have cooperated in the field of human resources development, especially in providing technical assistance and training for Lao students and officials on a short and long-term basis to upgrade their expertise in Mongolia.
Source: Vientiane Times