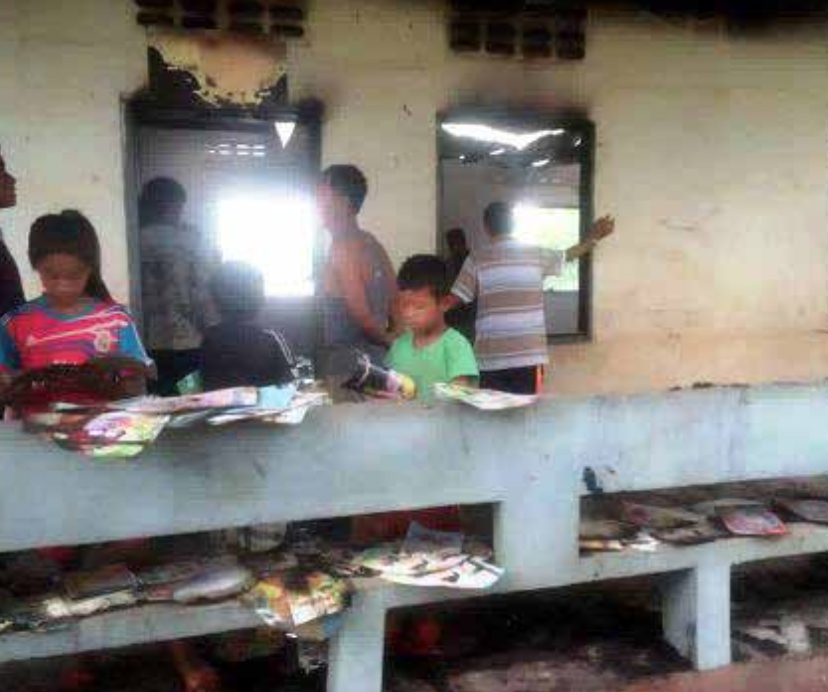 A primary School building in Kaengsao village, Paklai district of Xayaboury province, caught fire on Wednesday night after a suspected electrical short circuit, resulting in damages of over 500 million kip.
An official at the Paklai Security Office Major Arnou Phothitay told Vientiane Times yesterday the fire started at about 12:00am on October 5. The police and local authorities deployed a fire truck to bring the blaze under control, saying the fire took hold very quickly as many of the educational items inside were highly flammable. It took fire fighters about one hour to completely extinguish the flames.
Major Arnou said the one story building was built of bricks and rendered concrete but the fire was still able to spread because of the many books, papers and wooden desks and chairs which caught alight.
Police believe that an electrical short circuit may have sparked the fire which led to the 560 million kip damages bill.
So far this year there were two fire cases in Paklai district with a school and two houses in Souvannaphoum village were damaged.
It is normal for fire prevention police around the country to advise members of the public to check electrical devices before leaving home, to take care when burning rubbish and not to let children play with fire.
They also repeated their warning for people to be on guard against accidental fires and not to take risks with electrical wiring or appliances, or to leave burning candles unattended.
According to the nation's Fire Prevention and Protection Police Department under the Ministry of Public Security, 112 fires were reported around the country from January to June this year, causing over 101 billion kip in damages.
Some 132 houses were burned down, 30 hectares of grass scorched, with two markets and one mill also noted among the fire damage.
Five cars were among the many items damaged or destroyed.
Officials said 37 of the fires were caused by electrical short circuits, another seven by arson and 15 through carelessness or forgetfulness noting that some cases were still under investigation.
Most of the fires occurred in Vientiane but there was also a large fire in Dao Heuang market in Pakxe district, Champassak province that gutted the market at an estimated cost of 58 billion kip.
The nation's capital alone reported 38 fires which caused over 5 billion kip in damages.
Some 33 houses burned down, five hectares of grass were scorched, five people were injured and one fatality was recorded.
Five motorbikes and one car were among the many items damaged or destroyed.
Officials said 22 of these fires in Vientiane were caused by electrical short circuits, another four started via the burning of grass or garbage and one was ignited by candles.
Source: Vientiane Times