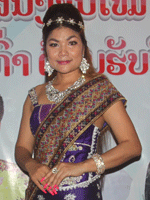 Following on the success of its previous three launches, TK Sound Lao Entertainment recently held another promotional event for traditional folk songs and to introduce new artists to the public.
The event presented 25 new traditional folk songs sung by well known and new performers from the company.
This included seven up-and-comers in Tom Nattakone, Phone Theva, Xanny, Ornnapha, Mali Angel, Minanouth Yingsavath, and Somleuthay.
The launch took place at Peuan Beer Restaurant in Phonethan village, Sisattanak district, where company director Mr. Thavisak Thammavongsa introduced the new singers to invited guests and media.
Also highlighted at the event were well-known performers Mr. Tonkhoun Sounakhen, Mini Angel, and Ms Southida Panoy.
The company also used the occasion introduce a singing contest Songfar Hadao Peesong which will be held soon.
At the launch Mr. Thavisack congratulated all the singers on their success and said his company was promoting a new style of entertainment and working actively on producing the best material for music fans.
He told Vientiane Times he was very happy to offer fresh music and bring new performers into the fold because it meant the company could promote even more traditional folk songs to fans.
Well-known singer Ms Onina, who has a new single Taolarnpee , said she was very happy to attend the event and have a release out again.
After launching the new single my music video has become very popular and more fans are following me. I would like to thank the media for their help in promoting our music, and especially the fans for their support and following my progress, she said.
Meanwhile, new singer Minanouth Yingsavath thanked TK Sound Lao for giving her the opportunity to be a part of their team.
My single Hakthaeyouborkay is all about love and I hope music fans and lovers support my track, she said.
Source: Vientiane Times