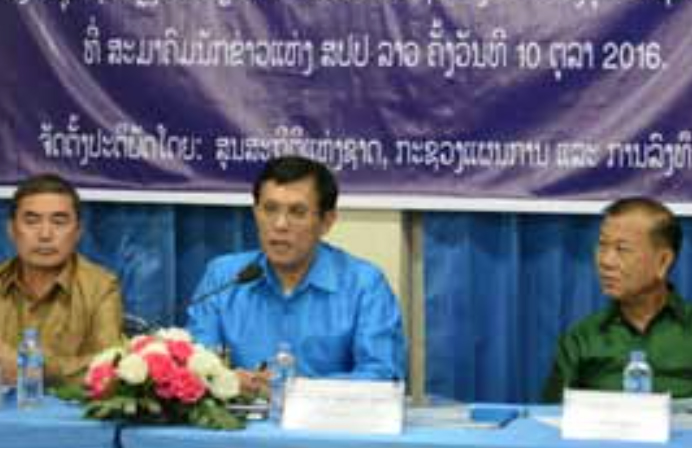 Lao Statistics Bureau under the Ministry of Planning and Investment held a press conference on Monday to highlight its important work, results and development strategies for the years ahead.
The event was held at the Lao Journalists' Association in Vientiane on Monday and presided over by Head of the Lao Statistics Bureau Dr Samaychanh Boupha.
Dr Samaychanh noted it was first time the Lao Statistics Bureau had organised a press conference to promote its operations but stressed the need to raise awareness and build understanding about the importance of the bureau's work both domestically and overseas.
During the press conference Dr Samaychanh highlighted the bureau's recent achievements and publications such as the Statistics Yearbook 2015, Provisional Report of Lao Population and Housing Census 2015, Statistics 40 Years, and Lao Expenditure and Consumption Survey Results (LECS5).
The bureau head also outlined plans to improve the production of statistics for the year ahead.
During the meeting Dr Samaychanh presented activities implemented and achievements under Strategies for the Development of National Statistical System 2010-2020 along with the limitations.
According to the 2010-2020 development strategies, key targets include improving the quality, reliability, and timeliness of statistics so they can serve and facilitate effective planning and decision making activities of policy makers, plan formulators and for domestic as well as foreign researchers.
The capacity and knowledge of staff and statisticians nationwide will also be enhanced so they can meet future development needs.
The bureau also plans to develop the national statistical system to guarantee that all activities ranging from production to dissemination are comparable and compliant with international standards.
Statistics are essential for Laos' socio-economic development. Good statistics are important tools for decisions making and formulating plans, and policies resolve relevant problems and serve as an indicators for the monitoring, evaluation and formulation of socio-economic development, and for monitoring progress of Millennium Development Goals (MDGs) and graduation from Least Developed Country (LDCs) status by 2020.
Source: Vientiane Times