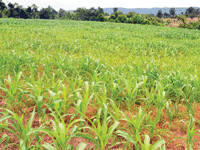 Exports from Xayaboury province for the first nine months of this calendar year have dropped by 43 percent compared to last year, according to local authorities.
The value of exports from the province for the period reached only US$33.6 million, of which US$31.2 million was agricultural produce and animal products, US$1.8 million was non-timber forest products and more than US$600,000 was wood products, according to a report from the provincial Industry and Commerce Department.
Thailand has long been the most attractive market for the province because of its close proximity and ease of transport.
Decisions made in the neighbouring country, which is Xayaboury's main trading partner, and other factors, had impacted on trading and the target figures for the province, the report noted.
However, provincial authorities plan to redouble efforts to boost exports over the next three months.
To reach the yearend target, the department is stepping up cooperation with the relevant sectors to improve production groups and business associations in each district, promote One District, One Product goods, and participate in exhibitions in Vientiane.
The department will also try to seek market opportunities for producers and strengthen their capacity to boost production.
Meanwhile, the province plans to boost exports to over US$35 million next year and will endeavour to stabilise the value of imports at US$18 million.
Imported goods include food and drinks, electrical equipment, vehicles and spare parts and materials used for home decoration, cooking and construction.
The government has encouraged farmers to grow crops on a commercial basis but they are still struggling with marketing and technical assistance.
Now the government is working with international organisations and development partners to help farmers and entrepreneurs to produce for domestic supply and for export, for which Thailand is a main trading partner.
Over the past two years the Thai government has revamped its policy on sweetcorn imports from Xayaboury province, reducing the amount to 200 tonnes a week, compared to the previous unlimited allowance between March and June.
The policy also requires farmers to produce a sanitary certificate, which guarantees the quality of the crop. Laos and Thailand have set a goal for two-way trade to hit US$8 billion over the next three years, but decreasing exports from Xayaboury province is one of the challenges in reaching the target.
Source: Vientiane Times