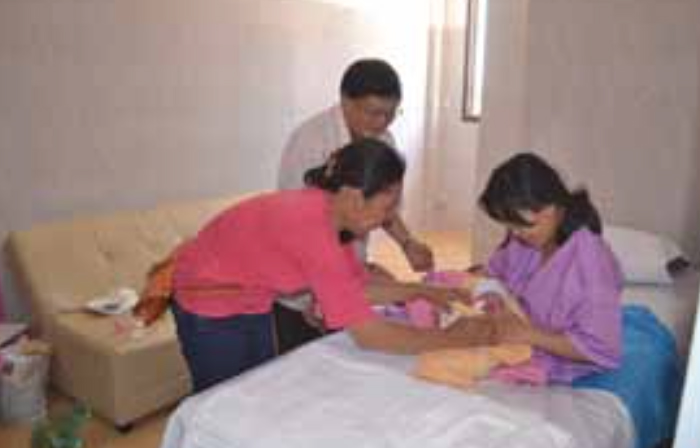 Infectious diseases are the main cause of illness and death among children under the age of five treated at the Children's Hospital in Vientiane.
The most serious illnesses affecting children who are brought to the hospital are pneumonia, hepatitis B, tuberculosis and dengue fever. These conditions are also the most common cause of death among the under-fives, according to a paediatrician at the hospital, Dr Ketmany Phansouk.
From July to September this year, some 22,500 children under the age of five were taken to the hospital for advice and treatment. During the same period last year, about 9,000 children visited the hospital.
Dr Ketmany told Vientiane Times yesterday that parents could play an important role in disease prevention and advised them to make sure their children had all the vaccinations available, which are free of charge.
Newborn infants and children under the age of five are particularly vulnerable to malnutrition and infectious diseases, many of which are preventable and treatable, she added.
She urged parents to take their children to a doctor when they fall ill and to give them rehydration solution if necessary. Parents should not try to treat their children themselves or buy medicine from a pharmacy without first consulting a doctor.
Parents should also make sure they know how to care for their sick children before taking them to hospital.
I believe this will gradually help to reduce the death rate of children and achieve other health development goals, she said.
A senior official from the Ministry of Health who asked not to be named said health issues were most serious among rural communities. This was partly because of their poverty and partly due to a lack of understanding about healthcare, and was especially prevalent among certain ethnic groups.
In many areas it is still customary for women to give birth at home instead of going to a hospital. He also pointed out that obtaining and using clean diapers was a problem for rural mothers, and infections could result when they used unclean diapers for their babies.
In collaboration with the Ministry of Health and key development partners, the World Health Organisation supports both routine and supplementary childhood vaccinations. Supplementary immunisation activities have strongly focused on wiping out measles.
According to 2015 figures supplied by the Ministry of Health, the mortality rate of children under one year is 40 out of every 1,000 live births, while for children under five it is 70 out of every 1,000 live births. The death rate of newborns is 30 out of every 1,000 live births.
By 2020 the ministry hopes to reduce the mortality rate of children less than one year to 30 out of every 1,000 live births and to 45 out of every 1,000 live births for children under five.
Source: Vientiane Times