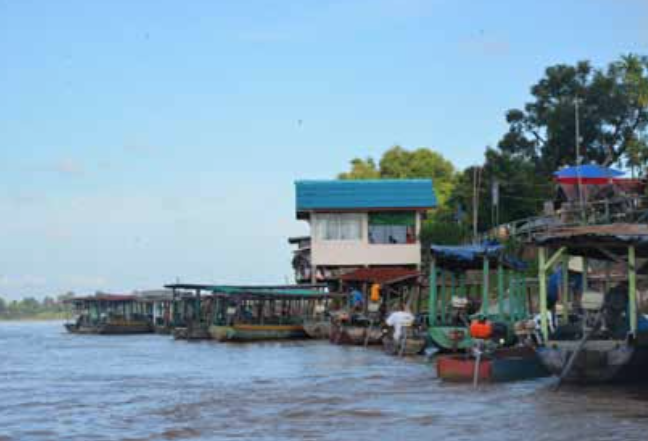 Boat operators in Nakasang village, Khong district, in the southern province of Champassak have experienced a decline in revenue due to the falling number of visiting tourists.
The head of the boat service association in Nakasang village, Mr. Bounseum Chanthalansy, told Vientiane Times that transportation and leisure trips are popular in the area, with both domestic and foreign visitors taking boats to cross the Mekong River for stays on Don Det and Don Khone islands.
The tourist operations also run ecotourism themed boat trips to experience island life, visit the popular Somphamit and Khonephapheng waterfalls and observe the endangered Irrawaddy dolphin.
Currently, the boating association has 132 small boats with the capacity to carry 3-8 people and 26 large boats that carry between 19-60 people. The services run from 7am to 5pm every day.
The boat service is an important source of revenue for both the boat operators and other tourist related businesses in Khong district, Mr Bounseum added.
But boat service operators have seen a decline in revenue due to the low number of visitors coming to the area. This year, the figure fell by 30 percent, compared to same period in the previous year, Mr Bounseum said.
Local authorities have made great efforts to improve infrastructure, in particular the construction of bridges and roads in an effort to attract more tourists. But the district's move to encourage tourists with the promise of easy access may have come at a cost to the boat operators.
The heavy emphasis on investment in infrastructure has made it easier for tourists to visit local attractions without needing to hire a boat.
In recent years, a new bridge crossing the Mekong River to Khong Island has drawn more visitors to the area with their own vehicles.
Another bridge and road connecting the mainland to Don Sadam island was recently built, which provided a more convenient means for tourists to access the waterfalls and watch Irrawaddy dolphins in the Mekong.
Last year, more than 400,000 tourists visited the area. The visitors consisted mostly of Lao citizens, while the remainder came from Thailand, Vietnam, China, Cambodia and various European countries.
However, the downturn in tourists is projected to change for the better in the coming years. The official projection estimates that over 500,000 people will visit the area next year, which will contribute to the growth of the local economy.
But the effect of the recent changes in infrastructure will continue to remain a question for the boat operators who make a living by providing services for visitors.
Source: Vientiane Times