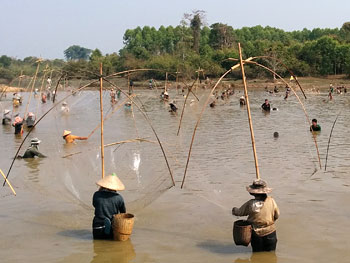 Lao and international fish experts are set to discuss ways to promote greater fisheries productivity in the region to push for food security, at an upcoming conference scheduled to take place in Vientiane.
The International Fishway Conference scheduled to take place from November 14-17 will bring together more than 150 experts to discuss innovative approaches to securing regional fisheries productivity as irrigation and other river development projects expand.
Hosted by the Ministry of Agriculture and Forestry, the Lower Mekong Fish Passage Conference will discuss how applied research can be used to enhance policy and decision-making across the region, according to the Living Aquatic Resources Research Centre (LARRC).
Drawn from the public and private sectors as well as academic institutions, the experts in river development, fish passage and aquatic ecosystem management are mainly from Australia, United States, Europe, South America and the neighbouring countries of Cambodia, Myanmar, Thailand, Vietnam, and Indonesia.
Director General of the National Agriculture and Forestry Research Institute (NAFRI), Dr Bounthong Bouahom, was quoted as saying that the region is currently experiencing an unprecedented boom in river development projects which will increase agricultural and power generation output for years to come, so there is a need to ensure these projects do not affect food security.
"It is important that our development activities do not impact our most important food source – fish," Dr Bounthong said. "Mekong fish species are highly migratory, requiring access to different habitats at many life stages.
"As governments, we need to produce power and supply water to our communities. But at the same time, we must ensure effective fish passage to maintain the fisheries resource for generations to come."
The four-day conference is being hosted by the LARRC, NAFRI and the Ministry of Agriculture and Forestry, with the support of the Australian Centre for International Agricultural Research (ACIAR) and the United States Agency for International Development (USAID). ACIAR has long been involved in Lao fishway research. In April, the Australian government agency launched a five-year project to quantify biophysical and community impacts of improved fish passage. This is among the largest ACIAR fisheries projects since it began supporting research in the sector in 1997.
During the conference, USAID is sponsoring a dialogue seminar aimed at agreeing on an approach to develop national guidelines for monitoring fish passage at mainstream dams along the Mekong River. The discussion is expected to involve fisheries and other international experts as well as representatives of the Lao energy, fisheries and natural resource management sectors.
The conference aims to bring together government agencies, developers, researchers, local provincial and district leaders and natural resource managers to help share knowledge on the successes and opportunities regarding fisheries sustainability in the region.
LARRC and NAFRI are organising the conference with Australia's Charles Sturt University and the United States Department of the Interior. Other partners are the New South Wales Department of Primary Industries i n Australia, the National University of Laos, and the Pacific Northwest National Laboratory in the United States.
Source: Vientiane Times