Weather Bureau Forecasts Cool Weather with Rain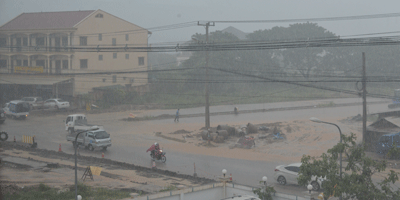 Weather forecasters have issued warnings of cool weather and rain across many parts of the country from November 7-9.
The Meteorology and Hydrology Department of the Ministry of Natural Resources and Environment issued the forecast yesterday saying the unseasonal weather is expected to affect all provinces, especially in the central and northern regions, but is unlikely to be severe.
After November 9, temperatures are expected to drop to 12-15 Celsius in the northern provinces of Xieng Khuang, Huaphan and Phongsaly.
Pakxong district in Champassak province is also expecting low temperatures of 10-12 Celsius, along with some rain.
The public is urged to take care and be alert to the possibility of falling trees and damage to houses and other buildings. Landslides may also occur, along with flash flooding caused by heavy rain, and everyone is advised to listen to forecasts issued by the Meteorology and Hydrology Department.
The weather system crossed into Laos from China yesterday afternoon, with most of the effects felt in the central and northern provinces of Phongsaly, Huaphan, Luang Namtha, Xieng Khuang, Oudomxay, Bokeo, Luang Prabang, Xayaboury, Vientiane, Xaysomboun and Borikhamxay.
The Weather Forecasting and Aeronautical Meteorology Division noted that gusting winds and rain passed over northern Laos in February this year and affected the capital as well as the provinces of Phongsaly, Huaphan, Luang Namtha, Xieng Khuang, Oudomxay, Bokeo and Luang Prabang.
The division said strong winds passed across Laos several times a year, with differing levels of strength, and are often very localised.
The Meteorology and Hydrology Department warned officials and local residents to be on their guard at all times during unpredictable weather. Trees, houses and other buildings can be damaged by wind and heavy rain, so people are advised to protect their property, essential equipment and animals.
Source: Vientiane Times