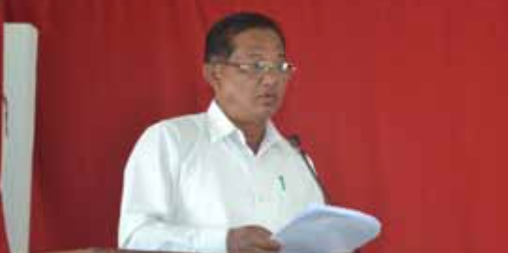 Despite some progress, Thaphabath district in Borikhamxay province still needs to increase local people's understanding of the importance of improvements to sanitation.
People in target villages still don't understand the importance of this work as many families are poorly informed about the need for good hygiene and still don't understand why it is necessary, a district health official said.
Head of the district health office, Dr Kaikeo Luangphanh, was speaking recently at a ceremony to announce the district's success at achieving Open Defecation Free (ODF) status, noting the achievement follows the government's efforts to improve sanitation and hygiene, and therefore the health and well-being of communities.
He said Thaphabath had witnessed progress in the health sector with many residents in target villages having access to health services. However, many people were still not accessing health services because they are poor and health workers are not sufficiently informed about sanitation.
Since 2009 the district had been distributing and collecting healthcare information about communities according to government policy, he said.
Health officials and village volunteers have been collecting information from villages about issues that seriously affect the safety and quality of care given to mothers and newborns and other problems with regard to community health. As a result, local people have been given access to more health services, he added.
He said the authorities have been targeting healthcare for preschool age children as they were most at risk from poor sanitation.
Acute respiratory infections and diarrhoeal diseases are the main cause of infant mortality and are related to unclean water, poor hygiene, and a lack of sanitation.
Thaphabat district now has about 27,000 people including children and women in 26 villages using toilets and no one is practising open defecation.
There are now six dispensaries, 66 community-based distributors, 13 midwives assisting in childbirth, and 18 pharmacies in the district.
A senior official from the Ministry of Health said the ministry was trying to improve standards of care. We're looking at improving assistance for deliveries in a comprehensive way, so we're boosting standards of healthcare and improving the services offered by doctors and nurses at hospitals and dispensaries at both the central and district levels.
It is crucial for those living in remote rural areas to understand the link between basic sanitation and improved health.
The contrast between urban and rural populations using improved sanitation is significant. In Laos, 91 percent of urban dwellers use improved sanitation compared with 48 percent of people living in rural areas.
Source: Vientiane Times