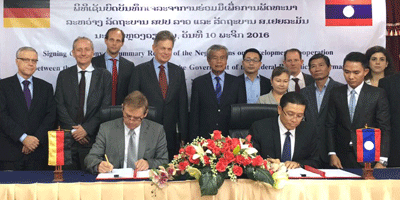 The government of Germany will provide more than 407 billion kip (45.8 million euros) to support development in Laos in 2016-2017 in line with their commitment to sustainable growth.
A grant agreement on negotiations for development cooperation between the two parties was signed yesterday by the Head of the China, East Asia, Laos and Cambodia Division, Mr Klaus Supp, and Laos' Deputy Minister of Planning and Investment, Dr Kikeo Chanthaboury.
This agreement on the amount of new commitments and core projects and programmes was reached during the Lao-German intergovernmental negotiations held in Vientiane from November 9-10.
Of the total funding, 18.8 million euros will be used for financial cooperation and 27 million euros for technical cooperation.
The funds come from the German government through the Ministry of Economic Cooperation and Development.
Projects will be implemented through the main German implementing agencies Gesellschaft für Internationale Zusammenarbeit, German Development Bank (KfW), and the BGR institute, with a focus on sustainable economic development, rural development and ASEAN integration.
Speaking at the signing ceremony, Dr Kikeo thanked the German government for the longstanding commitment to support Laos in its effort to graduate from Least Developed Country status by 2020.
"Our government highly values and appreciates the support and assistance from Germany in various areas of development in Laos and especially for improving the living standards of all Lao people across the country," Dr Kikeo said.
Mr Supp said "With our very strong commitment to the development partnership with Laos, we want to assist in bringing the benefits of growth to as many people as possible."
German support has been aligned with the 8th National Socio-Economic Development Plan and European Joint Programming. The right balance between using and preserving natural resources is essential for sustainable development in Laos.
"Both sides agree that better governance to help Laos is a key factor for the development of the country," Mr Supp said.
The German delegation thanked the Lao government for entrusting Germany with the co-chairs of the sector working groups dealing with natural resources/environment and trade/private sector development.
Both sides highlighted that they look forward to continuing the fruitful cooperation in mutual trust and good partnership for the upcoming years.
Yesterday's signing ceremony was witnessed by German Ambassador to Laos, Mr Michael Grau in the presence of senior officials and representatives from both parties.
Source: Vientiane Times