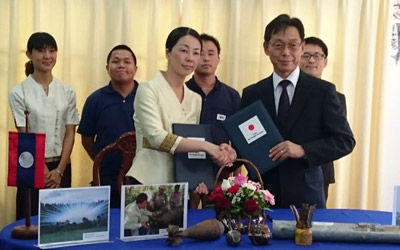 The government of Japan has provided grant assistance worth US$827,244 to rebuild the UXO Training Centre and fund a UXO-related capacity-building programme.
A signing ceremony for a grant contract for the project took place at the Japanese Embassy on Friday between Japanese Ambassador to Laos Mr Takeshi Hikihara and Project Coordinator and Financial Officer of the Japan Mine Action Service (JMAS) Ms Naoko Iwase.
The signing was witnessed by embassy officials and JMAS staff. JMAS is a Japanese non-profit organisation that has been actively engaged in UXO-clearance activities in Laos since 2005. The grant extended at this time will fund activities in the final year of this three-year project.
This project aims to rebuild the training centre and to carry out capacity building for UXO clearance operation staff. In the final stage of the project, an office, cafeteria and kitchen will be built at the training centre.
At the same time, training for UXO Lao staff on explosive ordnance disposal techniques will be conducted. Bomb-cutting with saw is one effective and safe disposal method and is particularly useful when a bomb cannot be dismantled or its fuse cannot be removed.
It is hoped that this project will help UXO Lao to accelerate UXO-clearance operations in the medium- to long-term perspective.
JMAS has implemented several UXO projects in Laos, namely in Xieng Khuang province in 2005-7 and 2008-9, in Saravan province in 2011, in Attapeu and Champassak provinces in 2011-13, and in Vientiane from 2014-15.
In August this year, JMAS started a new project to mechanise the process of UXO clearance for the first time in the world.
Japan, fully aware of the importance of UXO issues, prioritises this issue in its ODA policy in Laos.
Japan has placed particular emphasis on UXO clearance through funding, providing equipment such as detectors and bush-cutters, technical assistance, and capacity building.
Japan has also supported UXO-related risk education and the medical treatment of victims of UXO.
Source: Vientiane Times