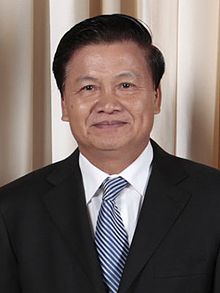 Reconfigurations in national departments, along with their new mandates, are almost finished following the new cabinet's assumption of office in April, Prime Minister Thongloun Sisoulith told the National Assembly (NA) recently.
The move will ensure those ministries and departments whose responsibilities previously overlapped no longer do double duty, the prime minister told the NA's ordinary session, which is currently meeting for debate.
These included agencies previously under the Prime Minister's Office, which have been transferred to the ministries whose mandates are most relevant.
"Administrative reconfiguration and improvement in some ministries' duties are still ongoing," he said.
The government is striving towards governing the country according to the rule of law and has subsequently issued 12 Prime Ministerial Decrees, in addition to 11 Prime Ministerial Orders and a number of regulations.
Officials have drawn up four newly-drafted laws and another seven draft-amended laws, which have been submitted to the Assembly for debate.
The prime minister highlighted the fact that the government also addressed some major issues like tackling lax practices at Electricite Du Laos (EDL).
The company's failings came to light when many incorrect electricity bills were issued in May with charges being unreasonably high, triggering a slew of public complaints.
The government stepped in and the prime minister instructed the Ministry of Energy and Mines to look into the matter. The irregularities that were uncovered were followed by reassignments within the administration of the state enterprise.
"Meanwhile, the electricity fees have been revised," the prime minister told parliament, referring to the revision of the fees charged to households, which are now lower than before.
Another move that gained public approval was the issuance of Prime Ministerial Order No. 15 on May 13, 2016. This prohibited the export of unfinished wood products, including stricter measures to regulate wood processing businesses.
The crackdown resulted in 1,154 family-unit furniture plants across the country shutting down their illegal operations, while more than 55,421 cubic metres of illegally harvested wood have been seized, according to the government's taskforce committee.
In addition, the government decided to cease granting an annual quota of timber harvesting in a move to protect natural resources, Mr Thongloun told the Assembly.
"S o far, this order [Prime Ministerial Order No. 15] and its effective implementation have been supported by all sectors of society," he said.
The government also announced the repeal of the import tariff exemption on petrol, which was previously granted to many importers, causing an enormous loss of state revenue.
Mr Thongloun added that there were a number of unfinished and new agendas the government has committed to addressing, including measures to drive economic growth.
Source: Vientiane Times