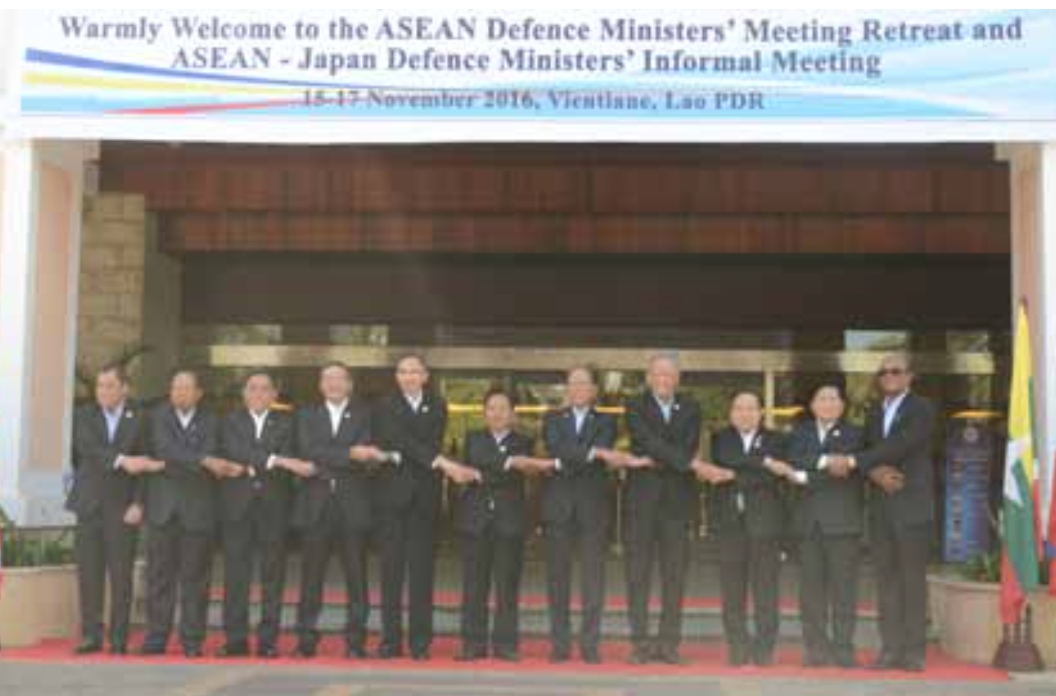 ASEAN defence ministers have reaffirmed their joint commitment to strengthening solidarity, unity and centrality among ASEAN member countries.
Minister of National Defence Lieutenant General Chansamone Chanyalath reiterated the ministers' stance in his opening remarks at the ASEAN Defence Ministers' Meeting (ADMM) Retreat and ASEAN-Japan Defence Ministers' Informal Meeting, taking place in Vientiane from November 15-17.
This means that we intend to build ASEAN into a region of peace, stability, security and development in line with the ASEAN Vision 2025, he said.
Lt. Gen. Chansamone said cooperation through the ADMM has been continuously progressing, resulting in a number of achievements.
Such progress can be seen through the establishment of new cooperative mechanisms and other related activities, he said.
But Lt. Gen. Chansamone observed that ASEAN is still facing traditional and non-traditional security threats and challenges, which no single country alone can handle.
This meeting is an important opportunity for us to discuss defence and security issues so we can explore appropriate measures in order to address these challenges in an effective and timely manner, he said.
Lt. Gen. Chansamone was optimistic that the main points discussed in the meeting would pave the way for the enhancement of the ADMM and other related mechanisms in the long run.
He said the meeting would enable ASEAN defence ministers to contribute to the discussion in an active and constructive atmosphere, so that it would result in fruitful outcomes. This convivial atmosphere had brought about amity and understanding, he added.
Lt. Gen. Chansamone said he strongly believed the issues discussed would be another solid foundation for future ASEAN defence and security cooperation.
In order to accomplish the intended goals, he asked all ASEAN defence ministers to work closely and persevere as they attempted to address existing and future security challenges.
This would enable them to promote peace, stability, security and prosperity for the ASEAN Community in line with this year's 10th ADMM theme: Promoting Defence Cooperation for a Dynamic ASEAN Community.
During the meeting, Lt. Gen. Chansamone Chanyalath congratulated Mr Delfin Lorenzana on his new position as Secretary of National Defence of the Republic of the Philippines.
The Republic of the Philippines will be the next chair of 11th ADMM, 4th ADMM-Plus and other related meetings next year.
Source: Vientiane Times