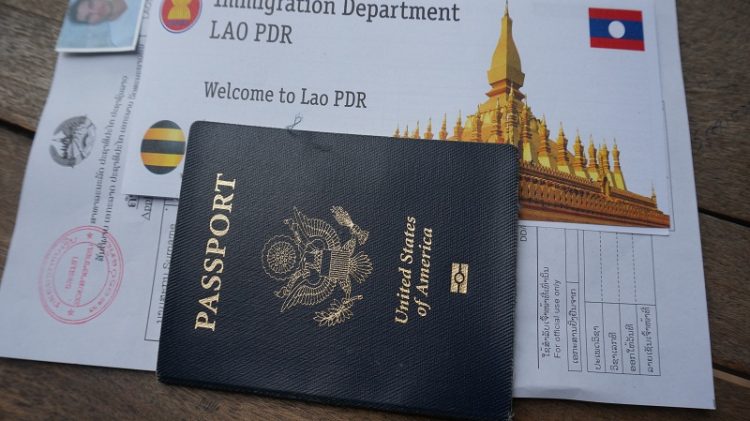 By RDK Group
Most foreigners require a visa before entering the territory of Laos. Generally speaking, obtaining a visa to Laos is a relatively simple process, although specific information is not always easy to find. This guide explains each type of visa available, as well as the application process for each:
Tourist Visa (T-B3)
While tourist visas can be obtained at a Lao embassy or consulate abroad, tourists from many countries are offered a tourist visa on arrival in Laos. Obtaining a visa on arrival is a simple process, requiring only filling out a few forms and paying a visa fee at a land border crossing or at airport immigration. The standard fee for a visa is $30 USD, although fees may vary from country to country.
Visas on arrival are available at:
Lao international airports in Vientiane, Luang Prabang, Pakse and Savannakhet.
Thanaleng Railway Station in Vientiane Capital
International land border crossings including Lao-Thai Friendship bridges in Vientiane, Thakhek and Savannakhet, and land borders with other countries.
Citizens of some countries, including Japan, Russia, Switzerland, Republic of Korea, and Luxembourg may enter and remain in Laos without a visa for 15 days. To see a full list of countries with bilateral or unilateral visa exemption agreements, view this list by MOFA.
Citizens of the following countries are not eligible for visas on arrival:
| | |
| --- | --- |
| Afghanistan | Nauru |
| Algeria | Niger |
| Bangladesh | Nigeria |
| Burundi | Pakistan |
| Cameroon | Senegal |
| Cote d'Ivoire | Sierra Leone |
| Congo | Sri Lanka |
| Ghana | Suriname |
| Guinea | Syria |
| Guinea Bissau | Swaziland |
| Jordan | Tonga |
| Lesotho | Turkey |
| Liberia | Zambia |
| Libya | Zimbabwe |
| Mozambique | |
Tourist Visa Fees by Country:
Country          Price (US Dollar)
Australia          30
Canada            42
China               20
India                40
Sweden           31
USA                35
UK                  35
Others             30+-
Tourist Visa Extension:
If you are having a great time in Laos and want to stay longer, your visa can be extended at the Immigration Department, Ministry of Public Security, in Vientiane Capital (off Lane Xang Avenue, here). The extension cost is $2 per day if you apply before your original visa expires, although there is a fine of US $10 per day for each day you overstay your original visa. You'll need your passport, one passport photo, and the correct amount of money for fees.
Transit Visa (TR-B3)

A Transit Visa is for tourists that will transit through Laos to another destination. This type of visa allows a seven day stay in Laos, and it cannot be extended. When applying for this visa, it may be necessary to provide evidence of an onward trip, such as an air ticket or entry visa for the next destination.
Visitor Visa (B3)

Visitor Visas are for citizens of foreign countries that wish to enter Laos for the purpose of visiting relatives living in Laos. This type of visa can be obtained from Lao embassies or consulates abroad. The visa allows visitors a stay of 30 days in Laos, and it may be extended twice. It may also be necessary to provide a letter from a guarantor in Laos, certified by MOFA, Laos.
Labor Visa (LA-B2)
The LA-B2 Labor Visa is the most common type of visa held by foreigners living and working in Laos. This visa may be for a 3 month, 6 month, or 12 month duration, and is a multiple entry visa, meaning the bearer may exit and re-enter the country as many times as they wish. In order to apply for this visa, the applicant must be legally employed and sponsored by a registered enterprise in Laos which holds a quota for foreign employees. The visa is normally accompanied by a Work Permit, and Stay Permit, and spouse visas are available under this visa.

If you do not have a company to sponsor you, or need assistance in processing a B2 visa, RDK Group can help facilitate this for you. Either visit our website, or complete this form.
Expert Visa (E-B2)
The expert visa is a visa issued to foreign experts, usually working for international organizations or non-government organizations. The conditions and processes are similar to that of the LA-B2 visa. The visa is normally accompanied by a Stay Permit and Work Permit, and spouse visas are available under this visa.
Investor Visa (NI-B2)
The NI-B2 Investor Visa is available to foreign citizens who have invested in an enterprise registered in Laos. This includes foreign investors, stockholders, directors, deputy directors, and technical officers. The visa is normally accompanied by a Stay Permit and Work Permit, and spouse visas are available under this visa.
Media Visa (M-B2)
The Media Visa is a special visa issued to registered foreign journalists who cover events in Laos.
Student Visa (ST-B2)
Student Visas are issued to foreign students that will study in Laos for one to five years. It is a 12 month visa that can be extended every year.
Spouse Visa (SP-B3)
The spouse visa is issued to husbands or wives of other types of visa holders. The spouse visa will normally be for the same duration as that of the original visa holder. A spouse visa holder may not undertake any work while in Laos.
Diplomatic Visa (D-A1)
This type of visa is only available to diplomatic passport holders, including consular officers, heads of international organizations and United Nations agencies, and their families. The visa is a 12 month multiple entry visa, and can be extended every year.
Official Visa (S-A2)
The Official Visa is similar to the A2 visa, and is for the staff members of diplomatic missions, consulates, United Nations agencies, and their families. It can is a 12 month visa which can be extended each year.
Courtesy Visa (C-B1)
The courtesy visa is a visa issued to foreign experts and their families, who perform assignments under bilateral cooperation or grant assistance projects for the government of Laos. The Courtesy Visa is exempt from visa fees and allows multiple entry for 6 months, or until assignment completion.
This article supplied by RDK GROUP.