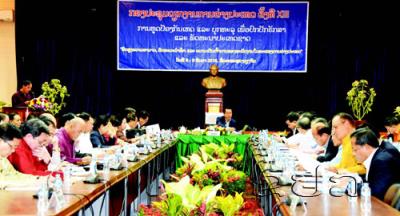 Over 100 senior officials of the Ministry of Foreign Affairs met in Vientiane to discuss their preparations for the 13thNational Meeting on Foreign Affairs, which has been scheduled for Dec 15-16.
"The meeting will review the implementation of the Party policy on external affairs over the past five years by the Ministry of Foreign Affairs and diplomatic offices located overseas," said Minister of Foreign Affairs Saleumxay Kommasith.
"The participants will exchange views evaluating the performance of the Ministry of Foreign Affairs and relevant organizations, identifying shortcomings and seeking proper solutions to the problems so that we can record greater achievements in foreign affairs in line with the guidance stated in the resolution of the 10th Party Congress," said Mr Saleumxay.
Source: KPL