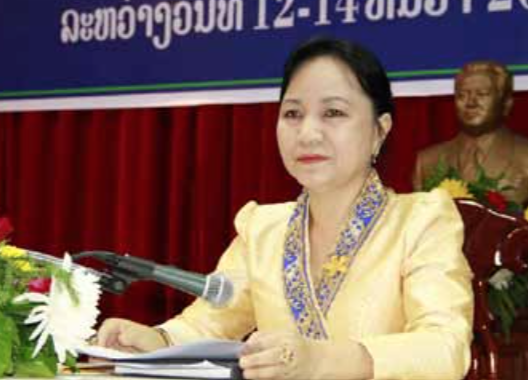 The Lao Women's Union (LWU) member committee has continually improved women's standing in various fields including law, female worker protection, as well as promoted gender equality and children's rights.
That was the message at the opening of the LWU's annual meeting yesterday in Vientiane, running from December 12-14 with the President of the Lao Women's Union, Dr Inlavan Keobounphanh, along with members from across the nation, in attendance.
The LWU will cooperate with their development partners to manage female and child workers at many workplaces, such as restaurants and entertainment venues, while looking to help victims of human trafficking.
As well, they will continue to improve the lives and support women and children in every local community, the meeting heard.
During the three-day conference, participants are discussing women's development plans for 2016-2020, with a focus on eight main development programmes to promote gender rights.
These programmes include human resource development for females, strengthening the women's union, promoting vocations and businesses for women, protecting women and children's rights, as well as promoting female progress and gender equality rights.
Vice President of the Lao Women's Union, Ms Bundith Prathoumvanh, highlighted the union's many achievements in 2015-2016 including women's and children's rights protection, the promotion of women's progress and gender equality, and the fight to stop violence against women.
In 2015-2016, the LWU member committee has stood up to violence against women and children, with some 40 victims receiving assistance.
Others achievements include supporting child protection in target provinces such as Luang Namtha, Xieng Khuang, Huaphan, Champassak and Savannakhet, with more than 1,000 children receiving benefits from the programme.
In the capital, LWU monitored and helped women and children who had become victims of human trafficking, while also opening a free healthcare consultation service for women and young people via the 136 and 137 hotlines.
The Vientiane LWU member committee also supported reproductive health activities and provided facilities for workers in local factories.
The union has helped Lao women make development progress in terms of education and vocational skills, as well as promoting their rights and protecting benefits.
Women also made significant contributions towards the achievements of the Millennium Development Goals (MDGs) in 2015, according to the LWU.
Source: Vientiane Times