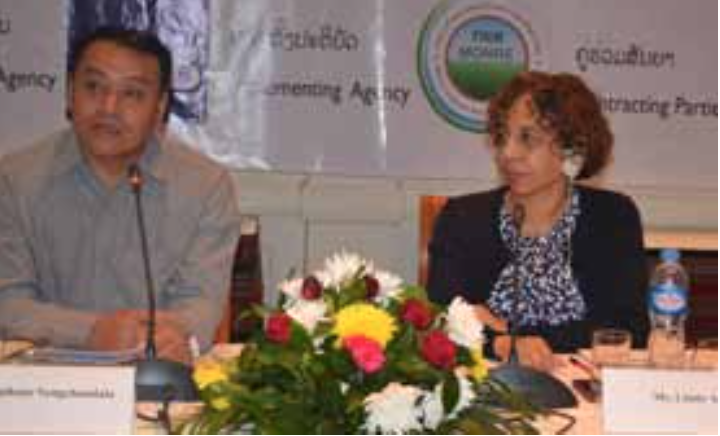 Lao experts and their development partners met in Vientiane to discuss a climate change mitigation project, hoping to improve on the previous year's efforts.

A workshop last week in Vientiane to review the project was attended by Asian development Bank to Laos (AD B) Representative, Ms Linda Adams, Netherlands Development Organisation to Laos Advisor, Ms Katrina Hergstrom, along with concerned officials and other participants.
The Project Harnessing Climate Change Mitigation Initiatives to Benefit Women has been focusing on providing space for stakeholders dedicated to gender and mitigation to showcase their initiatives and identify opportunities to collaborate.
Deputy Director General of Department of Disaster Management and Climate Change under the Ministry of Natural Resources and Environment, Mr Syamphone Sengchandala told the workshop climate change was a critical issue for Laos.
Changing weather, floods and droughts affect our food security, water supplies, transport and urban infrastructure. Because a large proportion of Lao people, and especially women, depend on agriculture and natural resources, they are increasingly vulnerable to the impacts of climate change he said.
Mr Syamphone noted that for several years authorities had learned a great deal about how to ensure that climate change initiatives were gender-responsive, and involved women from the project.
Local rivers and mountains also offered a great opportunity for Laos to contribute to climate change mitigation through development of hydro-electricity for export and domestic use, he said.
We need international support to be able to benefit fully from new climate finance opportunities, he added.
He also highlighted how women could improve their lives, building businesses as providers of clean energy technologies to contribute to climate change mitigation.
They are also responsible for household energy needs and can benefit from time and cost savings as well as improved health impacts of domestic-scale clean energy technology.
According to the project, it started in 2013 and has employed a unique partnership model that has engaged women as agents of change at three levels – in climate-related institutions, policies, an d projects.
Over the past three years, project participants have learned much worth sharing from this multilevel, multi-stakeholder model.
They have also recognised that there is a growing opportunity for this learning to serve as a platform for others to identify, advance, and scale up gender-responsive mitigation actions and seek funding aiming to provide space for stakeholders dedicated to gender and mitigation to showcase their initiatives and identify opportunities to collaborate
Source: Vientiane Times