PM's Order Poses Positive Outcomes for Lao Forests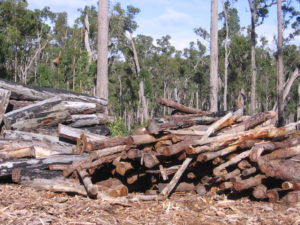 Prime Minister's Order No. 15 has successfully curbed harmful practices in the forestry sector and timber industry, while restoring public trust in the Party and government.
This message was delivered at an annual meeting in Vientiane this week to review past achievements and discuss the plans of the agriculture and forestry sector for the coming years.
Prime Minister Thongloun Sisoulith issued the order in May to strengthen the management and inspection of logging and businesses involved in the transport of wood and associated activities.
Speaking at the meeting, Deputy Minister of Agriculture and Forestry Mr Thongphath Vongmany said "Since the prime minister issued the order, which was followed by the creation of a task force to carry out the measures stipulated, there has been an evident decline in logging and the export of wood."
"Illegal logging has been sharply reduced and chronic undesirable practices within the sector and the timber industry have been reined in," he added.
Mr Thongloun decided to tackle these issues head on after becoming prime minister and promising to battle all forms of corruption.
The order complies with the Resolution adopted by the Tenth Party Congress and the guidance given by the highest ranking leaders concerning forestry.
"Another significant result is that the majority of people in the country support and appreciate the government's efforts. This has contributed to the restoration of public trust in the Party's leadership and state management in general, and forest management in particular," Mr Thongphath said.
According to a report from the ministry, more than 1.2 million cubic metres of unprocessed logs and sawn timber were exported to neighbouring countries in 2015, earning less than US$50 million in revenue.
Prior to the order there was a surge in both legal and illegal logging, with exports comprising mostly unprocessed wood and sawn timber.
The hands-off attitude of local authorities in relation to forest management led to private companies engaging in pre-logging surveys, tree marking, quantity assessment, and the felling of trees.
Foreigners were found felling trees and encroaching in conservation areas and protected forests.
The Ministry of Agriculture and Forestry has now completed plans for the demarcation of 'production forest' in 51 areas of the country. It has also identified areas where logging is permitted, forests that are in need of reestablishment, and areas for integrated tree plantations.
The ministry has installed 783 markers indicating the borders of four national protected areas, and 376 notices on the use of this land. More than 200 markers and 129 notices have also been installed in four national protected forests.
The government plans to restore forest cover to 70 percent of the country's terrain by 2020.
More than 260,000 hectares of forests have been restored in the past year. More than 36,000 hectares are in protected areas, 116,000 hectares are in protected forests, and 108,000 hectares are in production and community forests.
Source: Vientiane Times