Owner of popular Naked Espresso cafe franchise, Mr Ariya Khamvongsa, emphasized the importance of cooperation and camaraderie among cafe and restaurant owners, at a launch party for a new FOURLEAF POS system held on June 9 at Naked Espresso Khamkhong Branch.
Mr Ariya said that connecting and evolving together is important, and that in order to thrive in the café, restaurant or hotel industry, one must rely on technological assistance to alleviate the workload that comes with opening multiple cafes.
The aim of the event was to introduce the audience to a smart POS system, which was presented by the representative and the co-founder of the FOURLEAF firm.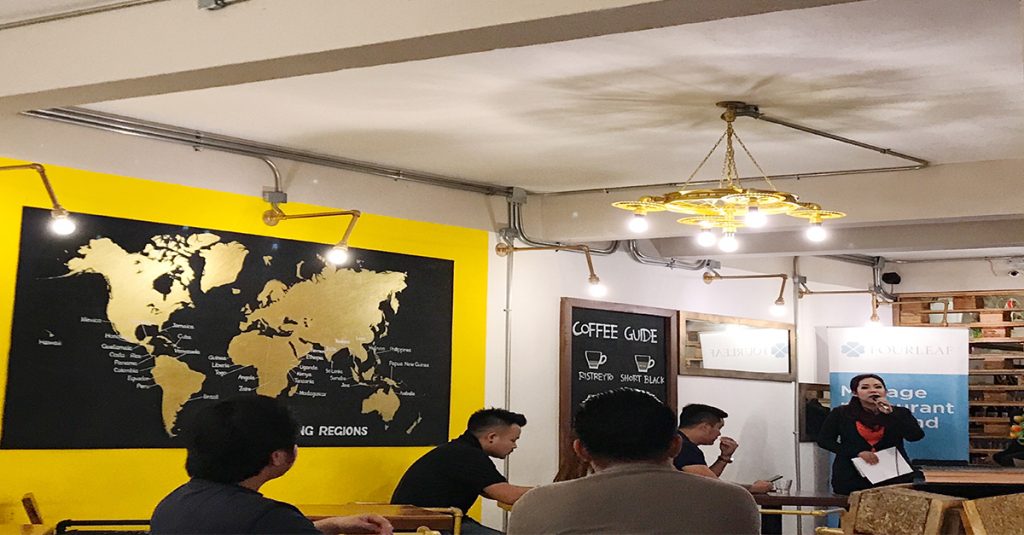 FOURLEAF Restaurant POS App
Venturing into the restaurant or cafe business is a feat for anyone, particularly for those with little to no experience in the field and for those who want to quickly expand their brand. Before an establishment reaches its grand opening day, extensive research and investment is required- from selecting and purchasing all the necessary equipment and furniture, to hiring staff, to calculating daily expenses.
We live in an era where technology is thriving and, in some cases, necessary. With mobile devices influencing our daily lives personally, we aim to apply the same influence directly to daily business as well.
FOURLEAF was established in 2014, with the ambition of applying cloud computing in connecting owners to their businesses in real-time. We believe that the FOURLEAF system will allow users to navigate the app confidently and with ease.
FOURLEAF has gained recognition by these global awards:
Silver Awards: iTex – Malaysia

Winner: Thailand ICT Award – Thailand

Merit Award: APICTA 2014 (Asia Pacific Information and Communication Technology Alliance) – Hong Kong

Finalist: APEC Accelerator Network Summit – Taiwan
Hundreds of restaurants in Thailand, Japan and the Netherlands have now integrated FOURLEAF into their businesses and rely on the cutting edge technology to accurately and efficiently handle customer orders.
FOURLEAF has joined forces with Second Crack Company in Laos, launching them as our official dealer.
"We believe the system and services provided by our hardworking team will assist Lao owners in managing their businesses with little effort," says a Fourleaf representative.
Product list:
FOURLEAF

: Restaurant Operating System App, helps owners track their inventory, capable of sending orders to the kitchen wirelessly and efficiently, compatible with wireless printer and cash drawers. (this is a complete restaurant operating system app.)

FOURLEAF Menu:

Eye-catching, modern digital menu on an iPad. Easy to operate menu details and images. Beautiful presentation for hotels/restaurants/cafes.
For more info, please contact via:
Website: www.afourleaf.com/laos
Facebook: www.facebook.com/afourleaf
Twitter: @FOURLEAF_APP
Instagram: @FOURLEAF_APP
Contact number (Vientiane Laos)
020 5999 9224
020 5622 2269