In spiritual terms, indigo is the colour of intuition and perception. In fashion terms, it's synonymous with denim – deep of hue and naturally dyed.
It's also one of the seven colours of the rainbow and has up to seven of its own distinct shades. But did you know that indigo also has mosquito repelling properties, and helps reduce perspiration. It's for these reasons, and more, that indigo, derived from the plant of the same name, has been intricately linked to the livelihoods of Lao people for generations. In Laos, indigo is often dubbed "the living colour", because of the procedures involved in its cultivation, a complex process that involves extracting the liquid from the plant leaves and fermenting it, until a chemical process turns it from a murky yellow to the deep indigo hue. During this process, great care is taken to ensure the colour does not "die" at each step, and it is then prized for its various practical, rather than simply aesthetic, qualities.
This is especially true for rice farmers, who often wear cotton dyed with natural Indigo. But today, all over the world, fashionable young things are toting bags and wearing jeans and shirts made from "natural-dyed indigo" and hailing from the popular Japanese chain store Muji, which has more than 470 branches worldwide. Most people are unaware of the brand's long-established link with a workshop in southern Laos, home of the Thonglahasinh Company, which today exports several textile products to Japan.
According to the company's founder, Bounthong Yodmankhong, the road to this point has been long and winding, beginning when he set up the company with his wife, Songbandith, almost 30 years ago.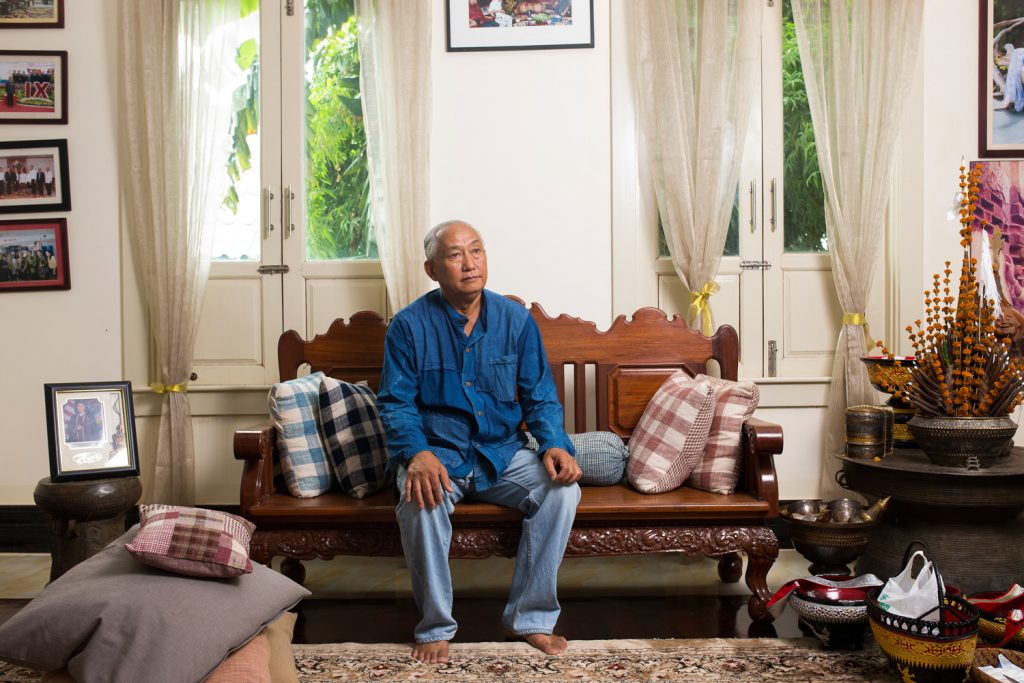 Back in 1990, Thongsavanhxay Company, as it was then known, began life as a garment factory in Savannakhet, exporting products to Europe. But when the European Union cancelled a special tax exemption, many foreign investors in Laos had to move their operations to China and Vietnam. Thongsavanhxay was among many local operations that were forced to close. But Bounthong says the move also forced him and his wife to change their business focus, and concentrate more on locally made products that reflected Lao culture.
Songbandith hails from Ban Laha, a small village in Savannakhet Province that has long been associated with indigo and cotton farming. Due to a family heritage of work in the area, she had hundreds of rolls of vintage fabrics scattered throughout the family home. It was these that caught the eye of Maki, a visiting conservationist and textiles expert from Japan, who was introduced to the family by an expert from JICA.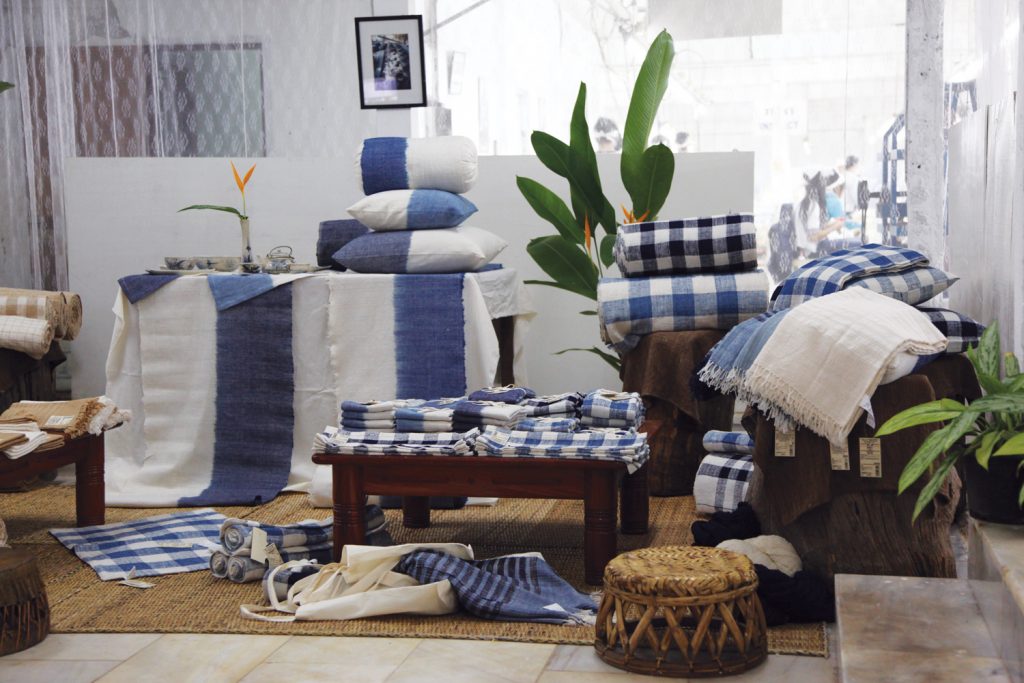 "Mr Maki was interested in Lao weaving culture and saw the beautiful fabrics we'd collected," Bounthong says.
"He wanted to understand more about the traditional weaving methods of the villagers of Laha from the village elders, and especially about the traditional indigo dyeing methods."
The idea was to revive the traditional heritage of indigo and Lao cotton weaving, and combine it with modern designs, in a joint Lao-Japanese enterprise. After several years of studying and refining the local craft, the project, led by Bounthong and Maki, was able to export products to Yukenled, a leading import company in Japan, in 1997.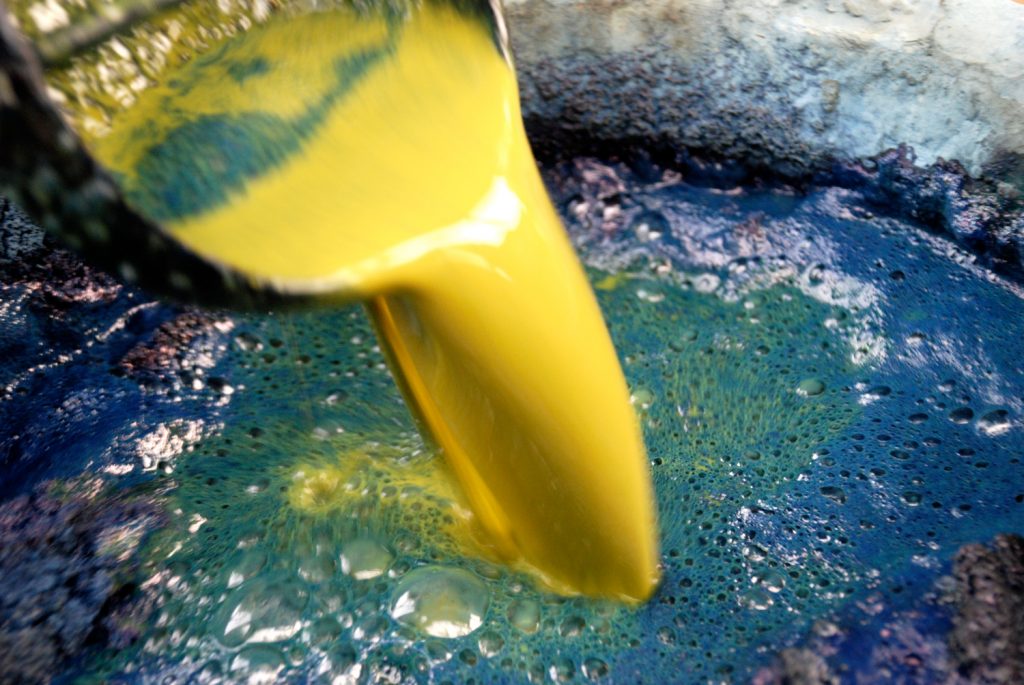 From this, the local Thonglahasing, or 'Laha' brand was born, an enterprise that was now large enough to export its products and gain international recognition. From then on, Bounthong regularly attended international textile exhibitions and trade shows, and it was while attending an exhibition in Japan in 2012 that he met a representative of Muji.
"He was interested in collaborating with the business, and said Muji had been monitoring Laha's progress for the past 12 years," Bounthong says.
This partnership led Bounthong, along with the general manager of Muji, on a study tour to India to research traditional Indian methods of indigo dyeing.
"When working with the Japanese, every step must be very detailed and meticulous in order to satisfy their quality standards," Bounthong says.
"But this didn't put us off at Laha – we've worked hard over the years to prove ourselves to Muji and maintain the relationship."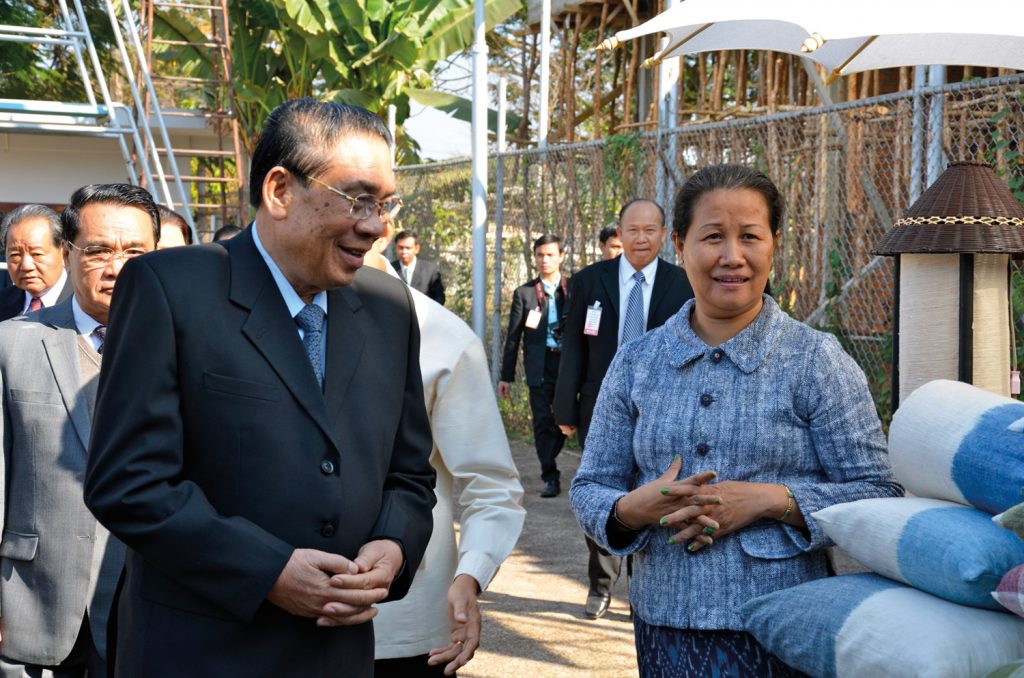 Nowadays, the Thonglahasinh Company fills orders worth US$2 million a year for Muji, with the most popular item a simple denim tote bag in varying shades of indigo. The company sends off more than 1 million of these each year, alongside limited edition scarves, pillowcases and cushion covers.
"These products are limited because of the precision required in weaving and dyeing according to Japanese standards, which takes time," Bounthong says.
"But we're told they're highly prized by Japanese customers."
Today, Bounthong is wearing one of his own indigo shirts – faded and softly worn with age – and muses that the business of textiles is both beautiful and multi-faceted. An avid photographer in his spare time, he says the patience and attention to detail required to capture the perfect image is similar to producing beautiful cotton and indigo fabrics. And both require an appreciation for beauty that millions of people, the world over, can now share.

Written by: Silvia Luanglath
Photos: Phoonsab Thevongsa
Originally Published in: Champa Meuanglao, official Lao Airlines in-flight magazine, 2017 July-August Edition