Almost a decade ago, Lao magazines were the hottest thing and a preferred medium for educated and savvy, urban professionals and public servants. Filled with intriguing content, titles like Mahason and Update gained a wide readership among local readers, racing to the top of TOM awareness and thus winning much needed ad revenue support from local and international sponsors.
The Rise of Online
However, with the advent of Facebook and the rise of media and entertainment websites like Tholakhong and LaoPost, coupled with an increasingly tech-savvy population, more and more advertisers are looking to online mediums to spend their marketing budgets.
"Magazines are facing tremendous difficulty in securing sponsor ad revenue because of the digital onslaught. Ninety percent of our revenue is from ads," says Viroun Sengdara, Managing Director of Sengdara Communications, the publisher of Mahason Magazine. "Facebook's high and instantaneous reach capability, engagement function and low costs have returned marketing power to individual businesses, big and small. It's truly enabled firms to create in-house marketing teams to promote their brands on Facebook, Google, Instagram, effectively marginalizing comparatively high-cost print ad mediums like magazines and newspapers."
"It's not that our readership has dwindled. Lao people are, more than any other point in history, more content-hungry than ever. It's the perception among advertisers that everyone – their kids, their colleagues, their customers – are all on their phones, hooked on seductive pictures from Miss Universe Laos' Instagram Account or the evocative Support Prime Minister Thongloun Facebook Page. It's not that people are not reading print. It's that they're spending more time reading online than offline."
Magazine Survival
Despite the digital onslaught, some magazines have managed to fare better than most. Champa Meuanglao, the official inflight magazine of Lao Airlines, has had to make several compromises to its business model in order to survive.
Cameron Darke, Senior Partner at RDK Group, the Vientiane-based translation and media company that publishes the inflight magazine, says that by adapting, one can still make ends meet.
"Within six months, we successfully revamped the inflight magazine. We've managed to scale down printing significantly – from monthly to bi-monthly." he says. "We've created a beautiful and functional website, providing well-written content in both English and Lao. We have a Facebook Page that shares content from that website. Our stories are published on several online mediums, giving us more digital exposure. Thankfully, we don't have to invest much in sales and distribution teams."
Target and Kuanjai, owned and published by K&C Group, were early adopters of the online trend, as they had immediately recognized the need for active involvement in the digital space. Target Magazine has established a reputation as the go-to magazine brand for business information and economic analysis in Laos, while Kuanjai has set itself as one of the authorities in the fashion world.
108 Magazine (previously known as 108Job Magazine) with serial entrepreneur Keovisouk Dalasane at the helm, has solidified its hold on the jobs space since its inception in 2012.
"Initially, 108 magazine was created purely to complement and promote our website, 108.jobs (previously 108job.la). And the magazine has succeeded in doing this and has even created a name for itself. But, we're slowly but surely beginning to feel the effects of the digital wave. Magazine ad spaces no longer command the same prices as they used to. To be honest, if we did not have a job board and HR services businesses to offset certain costs, I think we would seriously have to rethink pursuing the magazine solely on its own merits. Currently, we are in the midst of finding and probably pivoting to a new model so that the magazine could continue," says Dalasane.
It is interesting to note that the zealous rise of online mediums has not deterred other magazines from popping up. Wow Magazine, a dual language (Lao and Thai) publication, continues to gather a cult readership with its sensationally provocative fashion covers and spreads. Due to its capable foreign management and connections, it receives a number of advertisers from Laos and abroad.
Lines Magazine, a publication managed by architectural design firm APA Inc., is on a mission to promote the beauty and preservation of architecture, both modern and traditional. This specialized magazine is quite clear on its identity and has received support from a number of advertisers, primarily from the real estate sector.
Sokdee Trendy Magazine, published by Perfect Solutions Entertainment (PSE), focuses on fashion, whose covers are frequently graced by famous Thai and Lao celebrity icons.
One avid reader, Chankeo Orlady, tells the Laotian Times that she still reads both print and online articles at different times and moods and notes the difference between the two.
"Of course I use Facebook. How else would I get my news? I follow most of the Lao FB pages. They're extremely active and quick," says Orlady. "I don't know how accurate, though. But I feel that my friends and I trust whatever is on print more so than what's written on websites. And I love how it smells and feels on my hands. Online publishers can get away with writing a lot about the things that newspapers and magazines wouldn't dream of even mentioning because of censorship laws. There's real accountability with operating 'tangible publications.' While none of the local sites would dare say anything too wild, they aren't subject to the same government scrutiny as their print counterparts are."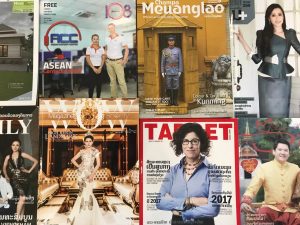 Is It Still Worth It to Advertise in Magazines?
Recently, many advertisers have shied away from investing in print ads primarily due to their relatively high costs and instead, advertising in digital platforms with lower price tags. However, as veteran freelance magazine journalist, Latsamy Phonevilay, argues that what continues to make print ads relevant is the comparatively undivided attention that readers give to magazine and newspaper content, rather than multitasking like they do when consuming digital content.
"It's all about consumer engagement when it comes to magazines. People are physically holding the ad in their hands," she says. "You can touch it, feel it. Magazine readers are generally more receptive and relaxed. This leads to better ad recall after they put the magazine down, which then typically leads to sales. That's something I directly tell prospective clients."
Senior Account Manager at Sengdara Communications, Intavath Duangtha notes that advertisers should focus on a comprehensive advertising plan that includes both print and digital ads.
"It's not about digital being better for the advertiser. Sure, digital has its benefits. But you need a combination of both print and online ads to get your target consumers' attention. If you only do digital, then you're missing out on those potential readers who are reading magazines. It ultimately comes down to the type of product and the type of customer you want to reach," Duangtha says.
Prestige Branding
In Laos, there's a certain level of prestige that comes with being featured in a magazine. It has become every established businessperson's (and increasingly – ambassadors, government officials) dream to one day grace the cover of Target Magazine. Every new startup founder and entrepreneur wants to be featured in 108 Magazine. A prospective young girl usually jumpstarts her modeling career by becoming Miss Mahason (the magazine's much coveted cover girl title). That same girl usually cements her career by appearing in Wow, Kuanjai and Trendy Magazines. And if any of the abovementioned wanted international exposure, their best bet would be to take to the skies with inflight champion, Champa Meuanglao.
While a magazine business won't make any investor filthy rich, it is more so the prestige factor that makes it worthwhile. Once its reputation has been firmly established, the magazine – whether profitable or not – is kept running for the sake of the brand name and the advertising power with which it carries. In light of this, it is no wonder why magazines are still going.
While the wheels of the digital truck turn at an impossibly fast rate, print media is left behind in the dust. While "slow and steady always wins" may not apply to this race, it is not the end of the line for magazines. The established trust factor, the prestige it carries, and the authentic smell and feel of fresh off the press paper are enough for it to stay in the race. As more and more businesses scramble to compete for online attention, the magazines that are still in print today will continue to stay relevant amidst the world of advertising.